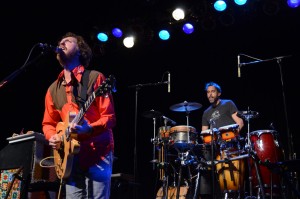 Some friends of mine have a hard time understanding the unabashed love that I have for the band Guster. I'm not sure I fully understand it myself. A friend of mine gave me copies of their albums "Lost and Gone Forever" and "Keep It Together" freshman year of high school. With all the wisdom and worldliness that a 14-year-old could summon he said, "These are both incredible, but 'Lost and Gone Forever' is one of the greatest records I've ever heard."
For a kid whose musical interests were just starting to branch out past the 1970s, these albums were a game changer; because as it turns out, getting exposed to Guster during your formative years can have quite an effect, not unlike polio. So when one of your favorite bands of all time comes to town for two nights of shows, you make sure to get tickets to both.
Guster has been together as a band for 24 years, "24 f-cking years" as Ryan Miller phrased it to the crowd at the Theatre of the Living Arts April 24. The band formed back at Tufts University in 1992 as Adam Garner, Brian Rosenworcel and Miller met during their freshman year. So if there's any Drexel University freshmen forming a band out there, make sure to grab your acoustic guitars and bongos!
As such a prolific and long-lasting band, their fan base is pretty diverse and was well represented at both of their soldout shows during what I am christening, "Guster Weekend." Parents with their tweens in tow were rubbing shoulders with 30 and 20-somethings who eagerly awaited the band's arrival on stage.
Violinist extraordinaire Kishi Bashi opened for Guster both nights and he put on quite a show. He recorded little snippets of violin and his vocals and looped them on top of each other to create these rich orchestral-like arrangements all by himself. It was extremely impressive. "The Ballad of Mr. Steak" had a great dance-y beat that many a parent took advantage of to embarrass their kids with some old-school moves (my mom included!) during his set at Union Transfer April 25.
Guster has a real reputation for putting on some incredibly engaging live shows and both shows had their shares of weird and wonderful moments that could only be found at a Guster concert. The TLA set featured Miller reading an email that brought an audience member and her boyfriend on stage so that she could ask him to the prom in front of the whole crowd. Miller quipped, "Guster really is for lovers!" The band then played a cover of Bryan Adams' "(Everything I Do) I Do It for You" featuring a rare appearance by the Thundergod himself on vocals. The power ballad was right in Rosenworcel's wheelhouse and was definitely the highlight of the show. Although, a rare playing (second time the whole tour!) of one of my all-time favorite songs, "Two Points for Honesty" really hit home for me. Walking out of the TLA onto to South Street with my tour poster in hand, I was stoked. Little did I know that the next night's concert at the Union Transfer would be the Guster show to end all Guster shows.
Packed to the rafters, the Union Transfer crowd roared their approval as Guster took the stage and opened with "Long Night," off of their latest album "Evermotion." A fan close to the stage donated an afghan blanket to add to the band's already impressive collection, many of which covered microphone stands and instruments, including one of Gardner's guitars.
After a few songs, Miller said how special it was to be in Philly and gave the crowd an opportunity to pick the next song. Miller asked the crowd to pick between two cult/extremely rarely played favorites from their first album, "Parachute" and "Happy Frappy." It's like when King Solomon asked those two ladies which half of the baby they wanted, you can't pick just one, you really want both. I may have misremembered that story a bit. Anyways, it ended up being "Happy Frappy," which was a real treat to hear live.
The night was full of fun, Guster-esque moments. I was surprised that "Ruby Falls" from "Ganging Up On The Sun" really kicked a lot more ass live than what I remembered of it from the record. Kishi Bashi tumbled around Union Transfer crowd surfing during "Simple Machine" from "Evermotion." "Never Coming Down," a song from "Evermotion" with a real beach-y vibe featured Gardner on trumpet and Rosenworcel on trombone. Every song was heightened by the dazzling lighting arrangements, which really took the performance to another level.
After closing with "This Could All Be Yours" from "Easy Wonderful," the band eschewed the normal encore procedure by instead staying on stage and standing under the blanket that was thrown on stage earlier. They then "returned" for the encore, which included the classic "Amsterdam."
In a shocking turn of events, the crowd chanting "One more song, one more song!" actually worked. Guster came back out to a deafening roar before playing "Parachute." That song is very near and dear to me and is played about as often as Drexel University lowers tuition. After its completion, the band looked ready to leave the stage for good, but the Thundergod intervened, encouraging the guys to stay and play an unplugged version of "Jesus on the Radio." Standing at the foot of the stage, the atmosphere was incredible as they played while the crowd sang along in almost a whisper, as to not drown out the band. It was a perfect way to end the night.
It was incredible to have Guster in town for back-to-back nights. With such a deep catalog of music to draw from, on top of a stellar new album, the band brought out all the stops. There were plenty of fun and wacky moments that you'd expect at a Guster concert, and with the addition of some great new songs and the dusting off of some older ones, Guster Weekend was most definitely a success.