Good Karma Cafe will satisfy your senses in more ways than what you would expect from a cabaret, let alone a coffee house. It offers a drink and food menu capable of inducing a mini excitement-panic attack from the multitude of tantalizing choices. What's more, it's nestled among the picturesque townhouses of Fitler Square at 331 S. 22nd St. (on the corner of Pine St.), one of those cozy Philadelphia neighborhoods insulated from the bustle of Center City but teeming with local dives and cultural life. Then, to top it all off — food, drink and location covered — Good Karma is sustainable.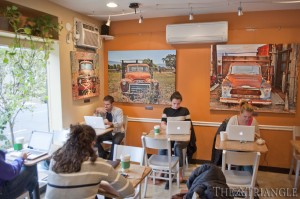 In fact, one of Philly's popular online culture guides, uwishunu.com, recently included the cafe in a coffee expose as one of the city's "Sustainable Sips." The article praises, "Owner David Arrell stresses social responsibility, green construction and corn-based plastics." Accordingly, Good Karma's main suppliers are Equal Exchange (Massachusetts based with global sourcing of Fair Trade-certified beans) and One Village (even more immediately based in the City of Brotherly Love). In addition, each month highlights a blend from various roasters, most of which are local. Indeed, this month features a coffee familiar to Drexel students, coming from Rival Brothers Roasters, whose food truck appears on the unit block of North 33rd Street every weekday from 7 a.m. to either 1 p.m. or 3 p.m., depending on the day.
Aside from the earth-friendly coffee options, Good Karma also sells heart- and soul-friendly espresso drinks and food. Of note are the autumn specialties (I personally am a sucker for the fall festivities) including pumpkin spice lattes, toffee lattes and hot apple cider. Then, with warming beverages comes homey fare, including seasonal soups, a variety of grilled sandwiches (with vegetarian options!) and all-day breakfast platters. If you want a grand slam of meals, I suggest the loaded vegetable soup, grilled chicken sandwich with smoked bacon and cheddar, and a flavored latte or fresh-squeezed juice (I'll leave the specifics to your liking) to finish it off.
If the goodies aren't enough persuasion, the atmosphere may be the kicker. To start, the baristas radiate such pleasant demeanors as to mitigate the despair from even the most frustrating of school or business work. My first visit to Good Karma began not with an iced coffee (my typical order) but a friendly conversation with the barista. He easily struck up a conversation, and soon we were discussing the impacts of global warming and related documentaries — uwishunu.com couldn't be more accurate in Good Karma being sustainable. With my spirits lifted, I spent the rest of my stay next to the front window, surrounded by plants and with a view of the locals passing by — in other words, a "Contemporary Zen-style espresso bar" as claimed (rightfully so) on the website. So whether you're looking for a local joint to hide out in for a long day of work or a charming hole in the wall where you can meet with friends over a cup of coffee, Good Karma Cafe affords customers comfort, hospitality and treats.