Northern Liberties is rapidly becoming the Brooklyn of Philadelphia, with its hip bars, restaurants and shops catering to the new wave of twentysomethings invading the neighborhood. And what would Brooklyn be without its weekend flea market, the Brooklyn Flea, where shoppers can score handmade, vintage and antique items to outfit themselves and their apartments? Aptly titled the Brooklyn Flea Philly, the new owners of The Piazza at Schmidt's decided to bring this element of Brooklyn culture to Philadelphia for a flea market every Sunday, rain or shine, to bring in foot traffic and support the businesses located at the Piazza.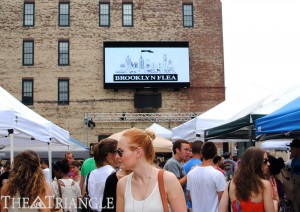 The Brooklyn Flea Philly opened June 2, just seven weeks after the idea was proposed. The owners spread the word through blogs and social media that the Flea was coming to Philly. The news quickly spread through the vendor community, and businesses that wanted to be part of it applied online.
Brooklyn Flea Philly Market Manager Mark Vevle explained of the application process, "We probably accepted a quarter of the applications we got, and we select and curate this because we really want high quality and a good, eclectic mix."
For the first two weeks, Vevle said they filled about 82 vendor spaces, including food vendors, to make room for special events. Opening day featured DJ ?uestlove, and in the second week they set-up a bar with beer from Brooklyn Brewery in conjunction with Philly Beer Week. They have a variety of carefully curated items such as new and vintage clothing and accessories, handmade items, crafts and homemade items, and antiques and antique furniture. Food vendors include Brooklyn staples Red Hook Lobster Pound and Mighty Quinn's Barbeque, gourmet ice cream from Princeton's The Bent Spoon, and local favorites such as Nomad Pizza and Joe Coffee.
They have since expanded the amount of vendor spaces and do not require any long-term commitment from the vendors. Therefore the vendors at the Flea will change from week to week.
"Occasionally there are going to be spots that open up, and that will give us the chance to kind of freshen things up," Veyle said. "A lot of these vendors have product that moves quickly, so even though you have the same vendor here, they're [to have] different product here from week to week."
As far as future plans for the Brooklyn Flea Philly go, the management is leaving it open-ended. "We'll try to go as long as we can into the fall season and take it from there. If it's a success, the Brooklyn markets have found ways to continue into the winter months. If we can prove success here, maybe we can move forward to something like that," Veyle said.
Check out the Brooklyn Flea this summer on Sundays from 10 a.m. to 5 p.m. at The Piazza at Schmidt's, 1050 N. Hancock St. For more information visit brooklynflea.com/philly.