Besides loads of homework, fall brings back everything good: new clothes, humidity-free hair days, beautiful leaves, and most importantly, the season premieres of all your favorite shows. Cult hit "Glee" returns with a brand-new season and cast members galore while "New Girl" takes over the primetime spotlight on Tuesdays this fall. Last season's cliffhangers from drama-filled "Homeland" and "Boardwalk Empire" will finally be resolved. New comedies from the likes of Ryan Murphy and Mindy Kaling will steal your heart while new musical "Nashville" and Sherlock Holmes spin-off "Elementary" may fizzle out. Between classes and studying, find a way to glue yourself to the TV or get that DVR going. It's going to be an exciting season.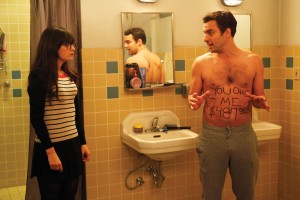 Last season's surprise comedy hit "New Girl" returns to Fox this season on Tuesdays at 9:30pm starting September 25. The new season will bring more romantic interests for Jess as audiences hope for Schmidt to make a move.
New TV Shows
The New Normal
Ryan Murphy, creator of TV successes including "Nip/Tuck," "Glee" and "American Horror Story," is bringing a family sitcom to primetime. "The New Normal" stars Justin Bartha (yeah, the guy from "The Hangover" and "National Treasure") and Andrew Rannells as a happy couple in L.A. whose lives are only missing one thing: a baby! Enter Goldie, the typical "Midwestern girl moves to Hollywood with big dreams" type with an eight-year-old daughter who agrees to be the couple's surrogate mom. If Murphy's prior record is any indication, "The New Normal" will be another quirky and groundbreaking comedy for the fall.
Premieres Sept. 11, NBC — Tuesdays, 9:30 p.m.
The Mindy Project
Mindy Kaling, the genius behind everyone's favorite stage-five clinger Kelly on "The Office," is now producing, writing and starring in her own sitcom. "The Mindy Project" focuses on the life of Mindy Lahiri, a single physician trying to make her way through life and its hazards. With her impeccable comedic timing and great writing (as evidenced by her recent book "Is Everyone Hanging Out Without Me?" and her work on "The Office"), "The Mindy Project" should be the next best sitcom to hit primetime.
Premieres Sept. 25, FOX — Tuesdays, 9:30 p.m.
Nashville
It's official: ABC has hopped on the musical TV series bandwagon. "Nashville" is a tune-filled drama set in its title city, where "American Horror Story's" Connie Britton stars as legendary country singer Rayna James, whose stardom is falling. Hayden Panettiere plays rising teen star Juliette Barnes (despite being 23 in real life). Whether the ABC show will hit it big like FOX's "Glee" and NBC's "Smash" remains to be seen, but with an already star-spattered cast list and an Academy Award-winning writing team, it could be a hit.
Premieres Oct. 10, ABC — Wednesdays, 10 p.m.
Elementary
With popular Sherlock Holmes creations like the Robert Downey Jr. film franchise and BBC series "Sherlock" already on top of everyone's DVR list, it is interesting that CBS chose to start its own reboot of the legend. "Elementary" stars Jonny Lee Miller as Sherlock Holmes and Lucy Liu as Dr. Joan Watson. The most confusing part of this whole series may be CBS' title decision. Though true fans will recognize the reference to the cliched phrase "Elementary, my dear Watson," usually uttered by Holmes, it doesn't exactly spell it out for less knowledgeable viewers who might be interested in the series anyway.
Premieres Sept. 27, CBS — Thursdays, 10 p.m.
Popular Shows Return
Glee
The groundbreaking musical TV series is back for its fourth season. In the new season, "Glee's" stars have found themselves thrust out of high school and into the real world, while back at home Lime High's newest seniors struggle with ruling the school and meeting new faces. The cast has seen quite a shake-up, but there are surprises in store: Kate Hudson and Sarah Jessica Parker make appearances with Lea Michele's character Rachel Berry, and both are sure to be full of laughs.
Premieres Sept. 13, FOX — Thursdays, 9 p.m.
Homeland
The hit Showtime vehicle is back for a second season after being nominated for multiple Emmys and Critic's Choice awards. The show follows Carrie Mathison, played by Claire Danes, who is a CIA operative assigned to the counterterrorism unit where she must stop a threat to national security. The drama-filled first season is a must-see, especially if you're looking to catch up before the series premieres this year. Danes will surely put in another stellar performance in "Homeland's" second season.
Premieres Sept. 30, Showtime — Sundays, 10 p.m.
Boardwalk Empire
After a shocking season 2 finale, "Boardwalk" fans are waiting with baited breath to find out what happens to everyone's favorite corrupt city. Steve Buscemi, as the charismatic but dangerous Nucky Thompson, returns to an Atlantic City free of his once-apprentice Jimmy Darmody. The Martin Scorsese- and Mark Wahlberg-produced TV series has filled the hole that Terence Winter, the show's other producer, left when "The Sopranos" ended a few years ago. This season is sure not to disappoint with drama and action.
Premieres Sept. 16, HBO — Sundays, 9 p.m.
New Girl
Zooey Deschanel's hit sitcom about a quirky girl living with three guys returns this fall for a second season. After the smash reception the show received last year, many are expecting great things from Deschanel's comedic prowess. Deschanel's Jess will provide all the fun and hijinks while new guest stars enter as her romantic interests. But will Schmidt ever enter the picture? Hopefully season 2 will answer these burning questions.
Premieres Sept. 25, FOX — Tuesdays, 9:30 p.m.