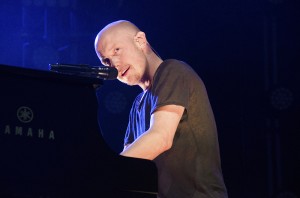 Rock band The Fray took the stage July 12 at Festival Pier at Penn's Landing as a part of Radio 104.5's Summer Block Party Series. Bands Bel Heir, Oh Honey, and Barcelona warmed up the audience for the "How to Save a Life" group. Neon Trees was scheduled to go on afterward.
The Fray is currently on tour following the release of their latest album, "Helios." While the rockers are perhaps best known by members of our generation for their early 2000s music, they have released three albums since their debut.
Though a lot of the band's original fans are now older, many of the people in attendance were younger fans, some even had their parents in tow. Though some people may still associate The Fray with their own angst-filled youth, such as a young woman who asked her friend why she would ever want to relive her past troubles by listening to the band, most of the concertgoers were clearly excited about the upcoming set.
Festival Pier was covered in sand and lined with promotional booths. I had the fortune to receive a Fireball Whiskey-scented car air freshener. Other booths included State Farm, at which lucky winners could get sunglasses and Turkey Hill, where free ice cream was piled high on the counter.
The three opening bands clearly appealed to the vast numbers of preteens in attendance. Each was met with screaming and lots of iPhone photography. However, The Fray was obviously the band that the attendees were most excited about, which is likely due to the fact that the group appeals to younger concertgoers and chaperoning parents alike.
While the younger members of the audience rushed toward the stage, the older members of the audience stayed near the back. Moms and dads everywhere were doing the twist and bouncing with their knees, slightly offbeat.
In a refreshing and surprising twist, The Fray came onstage exactly when they were scheduled to. They launched right into their set. The group played "You Found Me" third, which was met with even more preteen screams and cellphone video taking. A man sitting next to me at a picnic table, a father at the venue with his daughter, started mumbling the lyrics under his breath. These were the only words I heard him utter all evening. Clearly, this was a fan favorite across the board.
While the band was certainly energetic, the members rarely addressed the audience. Aside from front man Isaac Slade telling the audience, "Y'all are crazy tonight. I can feel it!" the band stuck to what they know best: playing music. All in all, it seemed like everyone had a good time, from preteens to parents to pop stars.