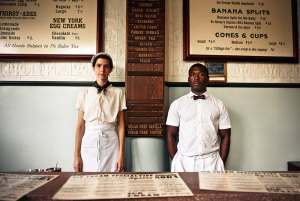 The Franklin Fountain, named in honor of Benjamin Franklin, is by far one of the most pleasant ice cream shops I have ever been to. The Franklin Fountain opened in 2004 by the Berley family, who had a passion for antiques and were inspired to build an ice cream parlor and soda fountain. After buying a building in 2002 in the heart of Old City, Ryan and Eric Berley recognized that the original porcelain mosaic tile floor and decorative tin walls and ceiling of the first floor would be the perfect setup.
I was speechless the first time I walked into The Franklin Fountain. I was impressed with how authentic the shop is. To start, the employees dress in old-fashioned clothing — that is how you know the owners of this place are committed and want to give their customers a real blast from the past. All of the machines are old and original, collected and traded by the Berley family themselves. These include lamps, blenders and the milk dispenser. There's a large dresser behind the counter that serves as the hub for the servers. There are bottles lined up in front of a mirror with samples of syrups and sodas. The table, chairs, signs and cabinets are all made of wood, giving it that traditional feeling. Even the bathroom is labeled "WC," which stands for "water closet" and was used years ago here and in Europe.
The menu includes an assortment of desserts and baked goods including sundaes, splits, cups and cones, phosphates, ice cream sodas, milkshakes, thirst ades, New York egg creams, pies, cakes, and more! In the winter Franklin Fountain has special additions such as hot milkshakes, hot soda, hot chocolate, more baked goods and caffeinated concoctions. Additionally, it has seasonal sorbets, sugar-free flavors and non-dairy ice creams that cater to even more customers. Everything is homemade and ingredients are all locally sourced. Most of the ice cream flavors are typical, but they are the richest flavors you could imagine. For instance, you can get cookies and cream anywhere, but only at The Franklin Fountain is it called the Hydrox Cookie, in which Hydrox cookies (the original chocolate sandwich cookie, before Oreo) are used. So even though the flavors are not crazy and constantly changing, they have quality natural ingredients.
I have been to The Franklin Fountain a few times and every time I am amazed. The service is always excellent. The employees are polite, polished and pleasant. I have never had to wait long, they are always smiling and they always offer to let me try samples. I have tried maple walnut, Hydrox cookie, rocky road and a limited edition flavor that consisted of nougat pieces, salted caramel and chocolate nibs. I am usually not a fan of maple walnut, but The Franklin Fountain may have changed that. I kid you not, the maple tasted like savory syrup, but straight out of a tree, which really complimented the walnuts. The Hydrox cookie took cookies and cream to a whole new level and I truly believe it's because Hydrox cookies are better than Oreos. Go try it if you do not believe me.
The rocky road was out of this world, complete with chocolate ice cream, salted chopped almond pieces and real marshmallow swirled in. Last but not least, my favorite, which is the limited edition ice cream: the combination of nougat, salted caramel and chocolate nibs was genius. Each one of these was flavorful, light and heavenly. I could tell everything was homemade, and that made all the difference.
I give this ice cream parlor a five out of five stars. Scrumptious desserts, charming staff and this classic setting make for a great date night or a night out with the family. Head over to 116 Market St. and take a delicious trip back in time.