Changing leaves; football; apples; and the fresh, crisp air are clear indicators that fall is here. But in autumn, pumpkins take the cake, cookies, lattes and so much more. I'm usually one to turn down trends, but the pumpkin-fad train is something I'll gladly ride.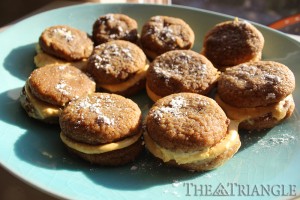 You can really exploit the whole pumpkin experience if you'd like. There's pumpkin picking, pumpkin carving, pumpkin cooking, and most importantly, pumpkin eating!
So seize the season and try a new pumpkin recipe!
Pumpkin chocolate chip cookie cake sandwiches with cream cheese cinnamon pumpkin filling
Ingredients:
For the cakes:
1 Trader Joe's Pumpkin Bar Baking Mix
Prepare the mix as directed on the box. Spray a cookie sheet and spread out golf ball-sized balls of dough on the sheet.
Cook the balls on the top rack at 350 degrees for six minutes. Make sure the oven is completely preheated before putting in the dough.
Take out cooked cakes and let them cool down for at least 20 minutes.
For the filling:
2 ounces whipped cream cheese
⅛ cup sugar
2 tablespoons canned pumpkin
⅛ teaspoon cinnamon
Put the cream cheese, cinnamon and canned pumpkin into a bowl. Whisk until homogenous. Slowly whisk in all of the sugar; at this point it should be a creamy mixture. After the cakes are completely cooled, spread filling on one cake and top with another. Sprinkle with powdered sugar and enjoy right away, or store in the fridge for later.