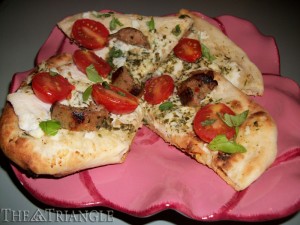 Naan flatbread pizza with ricotta cheese, sun-dried tomato chicken sausage, pesto and spinach
Ingredients:
1 Trader Joe's frozen tandoori garlic naan
¼ cup cooked spinach
½ cup cooked and cut sun-dried tomato chicken sausage
2 tablespoons ricotta cheese
1 tablespoon pesto
4 cherry tomatoes
Instructions:
Preheat the oven to 400 degrees. Spread out the cheese on the bread. Drizzle and spread out pesto sauce around the bread. Sprinkle the spinach around the bread, then spread out the chicken sausage and cherry tomatoes. Cook for six minutes. Dribble a little more pesto on top with fresh basil, and enjoy!