Now I know spring break is quickly approaching, so many of you are catching up on your perfect beach bods, but you should definitely treat yourself to one of these. This recipe is an easy way to become the favorite chef at a party. From experience, I can promise that you'll hear the whispers of "who made this?" talking about your dessert!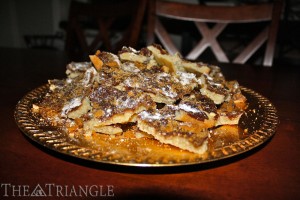 It's a sugar cookie base with caramel chocolate sauce, crushed up cinnamon graham cracker, chocolate chips and powdered sugar. Anytime I can incorporate my guilty-pleasure snack of Cinnamon Grahams from Trader Joe's into a dessert, I know it will be delicious. I've dubbed my dessert Sweet Graham Bark.
For the sugar cookies:
This is a sugar cookie recipe that is delicious on its own, but if you want to make it faster, you can easily just substitute sugar cookie mix.
1 cup softened butter
1 egg
2 ¾ cup flour
1 ¾ cup sugar
½ teaspoon vanilla extract
1 teaspoon baking soda
½ teaspoon baking powder
In one mixing bowl, cream together the butter and sugar, then add the egg and vanilla extract. Mix until it's a homogenous sugary mixture.
In another mixing bowl, mix the flour, baking soda and baking powder.
Gradually add the dry powders to the sugary egg mixture until all of it is added. If you like chocolate, you can add chocolate chips to the dough after it's mixed.
Grease an entire cookie pan thoroughly. Starting from the middle and moving outward, spread the dough into a cookie sheet (like a cookie cake). Spread out a layer of crunched-up graham crackers and chocolate chips on top of the dough.
Bake at 380 degrees for approximately 10 minutes or until the edges are golden brown.
For the sauce:
10-ounce jar of caramel sauce
4 ounces chocolate
½ cup brown sugar
½ stick butter
Heat the caramel sauce and butter in a saucepan at a mid-low setting until melted. Add in the brown sugar and chocolate. Top the cookies with the sauce. Crunch more graham crackers on top of the sauce.
Once the sugar cookies are baked and cooled, top with confection sugar and enjoy!