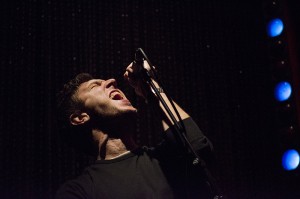 It's hard to top a bar as a concert venue. You're close enough to the band to reach out and touch them and alcohol is mere feet away. The problem is usually the acts aren't of the highest quality. The groups that come through are raw, unknown and more often than not, kind of crappy. So when the opportunity to catch a seasoned performer in such an intimate setting, you jump on it. This was the case when Hamilton Leithauser, the former front man of The Walkmen, stopped by the storied Johnny Brenda's Jan. 24.
Right around the corner from the Girard stop on the Market-Frankford line, Johnny Brenda's is a neat little venue. There's a bar and restaurant downstairs but upstairs is where the real action is. A stage is tucked away in the corner of the room next to the bar, and a small balcony lets concertgoers get a nice vantage point of the performance.
Around 10:30 p.m., Leithauser took the stage with his band, including former The Walkmen guitarist Paul Maroon, Fleet Foxes instrumentalist Skyler Skjelset and Hugh McIntosh, Leithauser's brother-in-law, on drums. Decked out in all black instead of his usual dress shirt and jacket, Leithauser launched into a track off his solo album, "Black Hours." Released last year, "Black Hours" is a departure from the alt-rock The Walkmen played for over 10 years. That's not to say that songs from "Black Hours" don't rock themselves. "Alexandria" is a fast-paced, foot-stomping song that really got the sold-out crowd energized. "11 O'Clock Friday Night" was another standout track. Maroon played the song's marimba line on his guitar instead, providing a neat sound.
After espousing his affection for Johnny Brenda's, calling it "the cultural center of Girard Avenue," Leithauser explained how the next few songs would be played just by himself and Maroon. The two of them are working on a new album together and they played a few cuts from it. No song titles were given so they are a bit hard to identify but they all sounded very solid and pretty different from the music on "Black Hours." It was cool to see two veteran performers just do their thing with only guitar and vocals, especially considering what a passionate vocalist Leithauser is. While Maroon created beautiful, nuanced melodies with his guitar, Leithauser's vocals soared through the crowd. Whether he is performing at a big festival or a small bar, Leithauser gives 100 percent on every song. When you are just a foot or two away, it is really a sight to behold.
Skjelset and McIntosh returned to the stage to finish up the set with "The Smallest Splinter" and the tremendous "I'll Never Love Again." The latter was released as a bonus track on "Black Hours" and it truly kicks ass live. McIntosh was a whirlwind on the drums while Maroon pounded out the guitar line and Leithauser just cooly strummed his acoustic guitar and delivered the lyrics. It was the perfect way to end the set.
I cannot recommend seeing a show at a bar enough, especially one as cool as Johnny Brenda's. Every performance won't be as polished as Leithauser and his band, but the setting and energy that live music bring to such a small space creates just should not be missed.