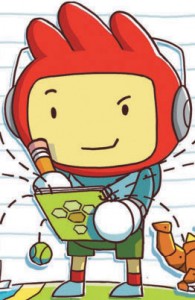 Scribblenauts Remix, began as a series for DS, has now been brought to Apple's iOS. The game now features Game Center integration as well as iCloud.
If you've followed DS gaming, chances are you're at least familiar with "Scribblenauts." 5th Cell's "write anything" concept ending up spawning two games that garnered quite a loyal following. Scribblenauts Remix serves as a "greatest hits" for the series, and newcomers shouldn't think twice about purchasing it.
Each level in Scribblenauts Remix requires you to collect the "starite" that's placed in each level. The gameplay is super-intuitive: Almost any object you can think of can be brought into the game just by writing the name of it in your character's notebook. You can even use adjectives, so the possibilities for solving the levels are endless. The in-game dictionary is deep enough that, bar copyrighted material, almost anything you think of can be created. It's worth noting that the time machine's functionality has been removed from the game.
The levels 5th Cell has pulled from previous games (mostly Super Scribblenauts) tend to be on the easier side, and some of the better puzzles are omitted. However, that doesn't mean that what's here isn't fun to work through. There are even 10 iOS-exclusive levels available, bringing the level count to 50. While this is significantly fewer levels than in the DS titles, it's a fair offering for the asking price. There's also a sandbox mode, where you can write in anything you want just to play with the game's extremely clever and impressive mechanics.
I would have liked to see the level editor and gold star challenge system from the previous games brought over into the iOS version, but they didn't make the cut. This exclusion takes away much of the replay value of the original games. Here you'll blast through the puzzles in about two hours.
The clunky controls for Maxwell, the chicken-haired protagonist, have always been a point of contention in Scribblenauts games, and it's no different on iOS. Touch-based movement works well, and typing on the iOS keyboard is better than the DS touchscreen, but the developers removed your ability to rotate objects or make Maxwell jump. Both of these omissions can be problematic at times, but are never game-breaking.
Scribblenauts Remix uses iCloud to sync game data between your iPhone and iPad instantly. This is a welcome feature that we hope becomes the standard for all universal apps. GameCenter implementation tracks achievements and leaderboards.
While there may not be much worth seeing for returning Scribblenauts, newcomers should experience Scribblenauts at least once and, for the relatively low point of entry, there's no good reason not to.
Tim Rattray is the associate editor for Slide To Play (slidetoplay.com), a leading source for iOS gaming news and reviews.