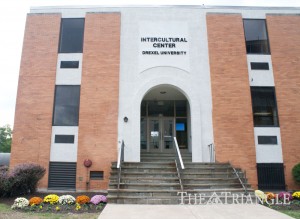 While it's been two years in the making, Drexel's new music venue is preparing to launch. The venue's name is Flux, and it represents the change and continuous diversity in music. The student-run venue is located on the lower level of the James E. Marks Intercultural Center at the corner of 33rd and Chestnut streets.
Students from a variety of majors are involved in bringing Flux to Drexel. Julie Paradiso, a member of the committee who made Flux a reality, has said this venue "is not only fun and about the shows, it's also about the students who are actually learning how to run a music venue."
The Flux committee, made up of 45 Drexel students, chose the Intercultural Center because it's "perfect for the venue's goal," Paradiso said. The main goal that the committee wants to focus on is diversity. While Flux is music focused, they are not limiting themselves to musical acts. Flux is planning on booking comedians, movie premiers, lectures and poets, among many others.
"The idea behind the venue is to create a larger quantity of diverse small-scale events. This gives the opportunity for the events to appeal to a wider range of students," Paradiso said. Along with adding more diverse music to Drexel's campus, Flux is meant to "create more school spirit and something that the students can enjoy close by," Paradiso said.
Enriching the music scene on campus is the driving force for Flux. Committee member Lorenzo Errico, who is the director of public relations for the venue, stated, "The campus community has been in much need of something fresh. Flux will bring entertainment for students. This opportunity will lead to more things to do in University City on a weekend. We hope to bring artists from all sorts of levels to perform in our space, we won't just stick to one genre, and won't do just concerts. The possibilities are endless."
As for sound, Flux is purchasing the most up-to-date equipment in order to be on par with other venues in Philadelphia. The venue has the most current sound equipment, which includes a 42-channel console, 12-by-16-foot stage and a capacity of 150 people.
"I believe that the music venue will add more culture to this already culturally rich neighborhood. I hope that students really take the initiative and go to these concerts. For most of the students, the venue will be within walking distance. There's really no excuse to not take advantage of it," Martin Leichter, who is the director of hospitality, said.
Visit www.drexelflux.com for up-to-date news and the official launch date of Flux.