In two years, Chiddy Bang has moved from Drexel University's favorite rap duo to No. 8 on the U.S. Billboard Top 200. Noah "Xaphoon Jones" pairs indie rock, soul and eight-bit electronica for Chidera's slick rapping. It's catchy hip-hop for the rock audience. Their newest album, "Breakfast," offers more of the geek meets ganja-smoking player lyricism, and its indie-rap fusion perfectly encompasses the current college music scene.
They've come a long way in the last two years. The duo's beats barely utilize samples anymore but are rather influenced-but-original riffs. Chidera is very aware of his critics, responding to them in "4th Quarter" by no longer "dropping all mixtapes allegedly." They spent summer 2011 touring the festival scene, playing at Bonnaroo, Electric Forrest, Bamboozle and many others. Chidera set a Guinness world record for longest freestyle rap at nine hours, 18 minutes and 22 seconds. Then they released a free mixtape, "Peanut Butter and Swelly," to get fans through the summer in preparation for this truly original album.
It's been almost a year since the first single of the album was released. "Mind Your Manners," sampling Icona Pop's "Manners" (2010), is the spiritual successor to "Opposite of Adults," similarly featuring children's choir, poppy guitar and synth. "Ray Charles" pays homage to the 50s rhythm and blues of the song's namesake and shows off Chiddy's lyricism at pickup. "I'm Ray Charles, Miss A calls. Talkin' to my dime and I miss eight calls." The throwback to soul music showcases their diverse influences and how diverse future albums could be.
"Happening," featuring VV Brown of "Shark in the Water" fame,brings hand-clapping, foot-stomping dancehall pop to the mix. Chiddy justifies his sleeping around over "Baby Roulette's" eight-bit gaming electronica. "My love is supersize. Ain't no happy meal, but if I'm gonna stay (got to wear a glove if we're gonna make love), I don't wanna play baby roulette." Chiddy delivers his best wordplay when he's juggling several girls.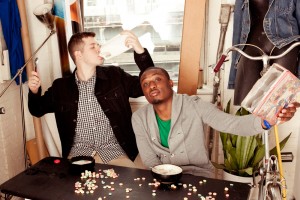 Former Drexel students Chidera "Chiddy" Anamege and Noah "Xaphoon Jones" Beresin of Chiddy Bang released their third studio album "Breakfast" March 5 with Virgin/I.R.S. Records. The album includes the single "Mind Your Manners."Chiddy called "Talking to Myself" his favorite track of the album at his CD release party. It's also the only one that shows his vulnerability. It's base R&B with no notable lines except the usual references to fast food ("You from BK, but you can't always have it your way"), Will Smith ("Parents just don't understand, and neither do y'all") and playing games ("Scrabble"). It all adds to a picture of pop lyricism injected with a shot of whiskey Red Bull.
They opened their summer tour with a CD release party at North Star Bar in Philly. Unfortunately, they played for under an hour, playing only the songs on their new album, two songs they guest-starred on for Big Sean, and their most popular single, "Opposite of Adults." Although they've played better sets during their tightly scheduled festival tours, repeated short and mediocre live performances make Chiddy Bang a band much better for playlists than concerts. That's the trouble with a made-for-radio series — you risk falling prey to your own succinctness. With an impassioned fan base and enough swell for a footlong sandwich, Chiddy has the potential to make concertgoers hit their heads against the ceiling. Currently, they bob.
"Breakfast" is Chiddy Bang in fine form, even more original and just as catchy as before. The album is littered with geek nostalgia, from "4th Quarter's" "Dropping anvils on him, it's Animaniacs" to "Breakfast's" "Live from the home of the prince of Bel-Air." Chiddy Bang has embraced its short Philadelphia experiences and delivers stories full of fly wordplay. The album is a collection of singles, not a cohesive unit. It works much better divided up among playlists than played back to front, giving college mixes a steady collection of songs to smoke, drink, chill and dance to.