On Feb. 13, 2009, Drake's career took off. On that day, he released his critically acclaimed mixtape, "So Far Gone," which almost won him a Grammy for the most popular song on that album, "Best I Ever Had." Last June, he dropped his debut album, "Thank Me Later," which sold 447,000 copies in its first week and is now certified platinum. It's safe to say that Drake has taken over the music industry.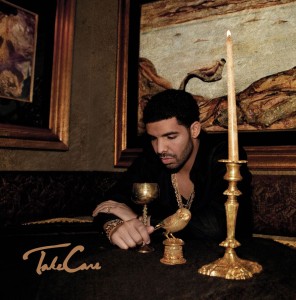 Drake released his sophomore album "Take Care" Nov. 15 after a delay due to sample clearances. The album features Rick Ross, Lil Wayne, Rihanna and many more.
For his sophomore album, "Take Care," Drake went back to his hometown of Toronto to record. He worked for months with his best friend and producer, Noah "40" Shebib, on the album and was able to rack up features from his boss, Lil Wayne, Nicki Minaj, Rihanna, The Weeknd, Kendrick Lamar, Rick Ross, Andre 3000 and Stevie Wonder. The album was originally scheduled to be released on Drake's birthday, Oct. 24, but due to sample clearance issues, the album hit stores Nov. 15.
Drake opens the album with "Over My Dead Body" and says, "I think I killed everybody in the game last year, man f— it I was on though." From the opening line of the song, you can hear Drake's confidence in himself and his abilities.
One of the standout songs on the album is "Shot for Me," where Drake talks about the envy his ex-girlfriends have of him now. "This is one, I know you hated when you heard it, and it's worse because you know that I deserve it. Take a shot for me."
The lead single, "Headlines," is Drake's first full song rapping on the album and is one that is full of boasting punchlines.
Features from The Weeknd and Rihanna occupy "Crew Love" and "Take Care," leading into "Marvin's Room," which took over thousands of radio stations after Drake released the song on his website over the summer.
Another standout moment of "Take Care" is the "Buried Alive Interlude," where Kendrick Lamar gets his moment to shine. The entire interlude is filled with Kendrick's unique voice and flow over a haunting beat produced by 40. "The reason why my best friend said she love me more than life, but I live a double life and need to let her go."
The album shifts back to Drake as he delivers some of his best raps on "Underground Kings," "We'll Be Fine" and the Nicki Minaj-assisted "Make Me Proud."
Then comes a moment that I will struggle greatly to describe. Just Blaze, legendary producer, teamed up with Drake and Rick Ross for "Lord Knows," which features a live choir masterfully incorporated into the beat with huge drums and smooth keys. If you haven't heard of Just Blaze, think of your favorite Jay-Z song, Google it, and more than likely he's the one who produced it. Drake is almost overpowered by the monstrous sound Just Blaze created, but overall, it's one of the best songs on the album.
"Take Care" then returns to the R&B sound it began with over the next four songs, starting with "Cameras / Good Ones Go Interlude." Drake somehow managed to get Stevie Wonder to perform a harmonica solo on "Doing It Wrong," an emotional song about a relationship ending.
Andre 3000 then steals the show from both Drake and Lil Wayne with an incredible verse on "The Real Her," in which he says, "Everybody has an addiction, mine happens to be you, and those who say they don't, souls will later on say to them, 'That ain't true.'"
One of the most powerful songs on the album, "Look What You've Done," features an incredible beat from Chase N. Cashe. Drake reminisces about his time in Toronto as a child over the chilling piano before playing a voicemail from his ailing aunt at the end of the song.
After the most emotional section of the album, Drake and Lil Wayne team up for the upbeat "HYFR." Then came "Practice," which features a sample of Juvenille's big hit from 1999, "Back That Azz Up."
The last song on the "Take Care" is "The Ride," which features fellow Toronto native The Weeknd. Drake saves one of his best stanzas for last, as he closes the album with, "I'm out here messing over the lives of these n—-s that couldn't f— with my freshman floater, look at that f—ing chip on your nephew's shoulder. My sophomore I was all for it, they all saw it, my junior and senior will only get meaner, Take Care n—-."
"Take Care" is much different than Drake's debut album, "Thank Me Later." With his sophomore, he was able to create more of an R&B sound and tried less to make big, hit records, as he did often on his debut. Instead, he focused more on the integrity and meaning behind the music. The transitions from song to song are sharper, each song has more of an impact on the listener, and you can truly feel the emotions that Drake is singing or rapping about on every track. Whether he's singing about the end of a relationship on "Doing It Wrong" or rapping about his luxurious life on "Headlines," Drake has a much bigger presence and impact on this album. Take Care" is a must-have album and one of the best released in 2011.