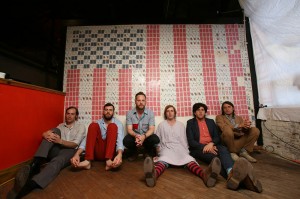 On Jan. 14, I had the chance to do a phone interview with Scott McMicken of the indie rock band Dr. Dog. McMicken, along with childhood friend Toby Leaman, make up the core of the band from West Grove, Pa. Although the band has had different members over the years, McMicken and Leaman have been there to maintain the group's signature lo-fi sound. Dr. Dog currently has six members and has embarked on a headlining tour in support of their eighth studio album, "B-Room."
"B-Room" was the first album Dr. Dog recorded in their new studio, which is just outside of Philadelphia in the Upper Darby area. McMicken said, "We had outgrown our old studio," and explained that their new arrangement was more comfortable than their old recording space in Kensington. The new space was once a mill and is now a recording studio with eight rooms and a place to sleep overnight. As far as Dr. Dog's recording process goes, McMicken said that they tend to do "stay-at-home" and do the producing and engineering themselves rather than bring in outside help. As for figuring out the name for the album, McMicken said they threw around ideas and "B-Room" just seemed right. The name and the album art are "a nod to the early days."
The music on the album, much like Dr. Dog's earlier albums, is reminiscent of an earlier time. While Leaman and McMicken are still the primary songwriters, the "band was more incorporated" and had "more collaboration" for this latest record. One thing that Dr. Dog is known for is their great live performances, and the band plays to their strength by often recording most of their studio albums live. McMicken said that on this latest album they "set out to get all of it live, but it ended up about half live with some tweaking afterwards." On songs like "The Truth" and "Too Weak to Ramble," you can feel this raw, heartfelt sound that is often absent in most modern albums. The latter song was one of McMicken's favorite tracks on the album. He said, "We recorded it live, stripped down. It was a fulfilling, vulnerable experience." The decision to try to record as many instruments as possible in one take is a smart way to try to bottle up the magic that Dr. Dog creates live on stage.
After an uncharacteristically long break since this past Thanksgiving, McMicken said he is eager to get back on tour. "We're never typically off this long; a couple of months, the two-month break, is such an anomaly." With their headlining tour getting underway Jan. 27, Dr. Dog is playing back-to-back shows at the Electric Factory Jan. 31 and Feb. 1. McMicken talked about how special playing so close to home can be. When asked if he enjoyed playing in Philly, he said, "I do, [it's] always an event, always a big deal. It can be overwhelming due to the sheer amount of friends and family there, but it always works out great. All the things that make it overwhelming are the things that, in the end, always make it such a great time."
McMicken said that the band has over 100 songs in the catalogue to play in order to mix up the set list between Electric Factory shows. The band's musicianship has grown since the early days of "Toothbrush" and "We All Belong," and their legendary live performances continue to be a major draw for all concertgoers.
My final question for McMicken was "What kind of music did you listen to in college?" He answered almost instantly, "The Beach Boys. I lived them." He humorously added, "You could say I majored in the Beach Boys." Now wouldn't it be nice if Drexel offered a major like that …
Tickets for both shows are still available on the Electric Factory's website.