"We're gonna party like it's 1922, old sport!" is what you might be inclined to say at your next soiree after seeing "The Great Gatsby." Out May 10, the 3-D extravaganza was directed by Australian director Baz Luhrmann, the man behind "Strictly Ballroom" (1992), "Romeo + Juliet" (1996), "Moulin Rouge!" (2001) and "Australia" (2008). Leave it to the director with a penchant for turning everything he sees into a set piece to create a period flick about the alcohol-saturated age of flappers, loose morals, lavish parties and opulent mansions. This is the fifth film adaptation of the classic 1925 F. Scott Fitzgerald novel that every high school student has had the pleasure of reading at one time or another.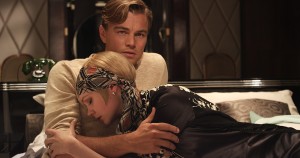 Set in the age of American prosperity after World War I known as the Roaring Twenties, the movie follows the tragic figure of Jay Gatsby, a hopeless romantic chasing a fantasy. Narrated by "Spider-Man" actor Tobey Maguire as Nick Carraway, the film explores such themes as the unattainability of the American Dream, God and disillusionment with the Jazz Age. Filled with great acting and music, the real gem here is Leonardo DiCaprio, in his second collaboration with Luhrmann, who portrays the titular character with such excellence and subtlety that I can truly call him one of the finest actors of his generation. Honestly, where the hell is this man's Oscar already?!
Staying true to the source material, Nick Carraway, a young Yale graduate from the Midwest moves to bustling New York City in the summer of 1922 to become a bond broker. Nevertheless, the filmmakers added some scenes to show his motivation for narration, which involve his love of writing. Carraway is played by Tobey Maguire, who brings some Peter Parker geekiness and naivete to the role. He moves to a small cottage house on Long Island, across the bay from his cousin Daisy and her husband Tom Buchanan. The soft-spoken Daisy is portrayed by Michelle Williams' look-alike, Carey Mulligan ("An Education"). Mulligan was a perfect choice with her simple, pale face and bob hairstyle, already looking like someone straight out of the '20s. Joel Edgerton ("Zero Dark Thirty") plays the hypocritical polo-playing Tom, who cheats on Daisy with the trashy Myrtle (Isla Fisher), the wife of mechanic George Wilson. Edgerton, who beat out Bradley Cooper for the role, was another perfect casting decision. His demeanor shifts with ease between geniality and malevolence.
For the first half hour or so, the movie builds mystery around the enigmatic Gatsby with fantastical rumors about his origins before he even shows up on screen. People describe him as a German spy, an assassin and a relation of the Kaiser, even at the grandiose booze-soaked parties he throws where all of New York — including politicians, gangsters and film stars — simply shows up crammed into automobiles. When he finally does appear, your patience will be rewarded with DiCaprio at the top of his game. Slipping into this role like a second skin, DiCaprio is as slick as he was in 2010's "Inception" and as charismatic as he was in 2002's "Catch Me If You Can."
Gatsby's wealthy gentleman facade is both endearing and humorous. He calls everyone "old sport" and claims to be the sole survivor of a rich family, an Oxford man and a war hero receiving an award from every Allied government for "valor extraordinary." As the film progresses, Carraway befriends Gatsby, and the truth behind his great wealth and extravagant parties is revealed to be spawned from an incorruptible and impossible dream of being with the woman he loves.
All the actors work perfectly together, especially in a tense scene within a hotel room that brings a segment from the book to life with spot on accuracy. Other minor characters are also taken care of, such as Jordan Baker, Owl Eyes and Jewish gangster Meyer Wolfsheim. Even the godlike eyes of Dr. T.J. Eckleburg were included to watch over our characters as everything starts to go to hell.
Luhrmann does a nice job of sticking to the essence of the novel and an even better job of evoking the feeling of the 1920s in an almost over-the-top way that makes the film feel like a Broadway production that characterized his "Red Curtain Trilogy." Known for his beautifully stylized form of filmmaking influenced by Italian grand opera, Luhrmann constructs an expansive form of New York that is charmingly vintage and art deco-inspired. We are transported back to a bygone era of three-piece suits, bootlegging, straw hats and coupes. This accomplishment reminded me of Peter Jackson's work on 2005's "King Kong" to recreate a 1930s version of Manhattan, though "Gatsby" takes place at least 10 years before the giant ape scaled the Empire State Building. This was also the second adaptation of a Fitzgerald piece to feature great set design, the first being David Fincher's "The Curious Case of Benjamin Button" (2008).
Music also plays a major role in the film, much like it did in Luhrmann's jukebox musical "Moulin Rouge!" The soundtrack, produced by Jay-Z, blends both modern music and jazz in an almost seamless fashion. Some notable and addicting tracks are the sexy "Back to Black" cover by Beyonce and Andre 3000, the heartbreaking "Over The Love" by Florence + The Machine, and Jack White's intense cover of "Love is Blindness."
Since the release of its first trailer last year, many people have been looking to this film as if it were the green light at the end of a dock. Originally scheduled for release back in December, it was pushed to May, only increasing the already high anticipation. Despite being based on an American classic, the $127 million-budget movie was filmed in Sydney and features more Australian actors than you can shake a stick at. However, for all its beauty and terrific acting, this adaptation fails to live up to the genius of the source material. At times, it becomes a little too grandiose and takes the focus off the obsessive Gatsby, a genuine man among sleazy rich folk who hide behind their money. Even inserting narration from the original text may fall a bit flat on the ear. But don't let that discourage you from shelling out the 10 bucks at your local cinema. Luhrmann has proven himself the master of forbidden love stories. Filled to the brim with murder, deceit, car races, sex, money, booze, music and parties, "The Great Gatsby" is, in a word, great.