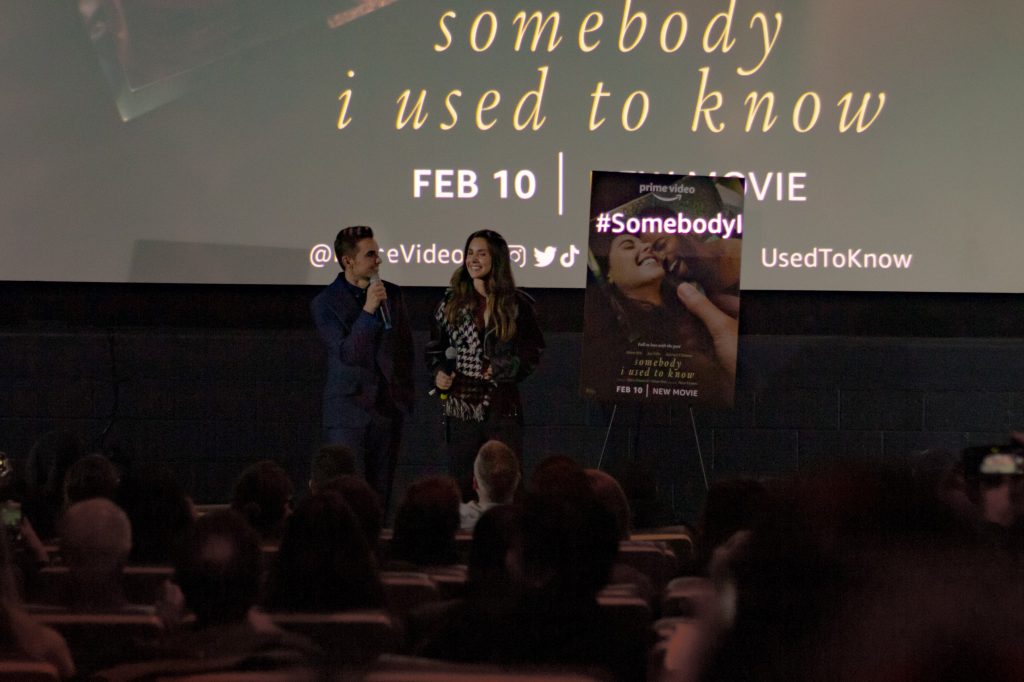 I had the opportunity to interview spouses and co-workers, Dave Franco (director) and Alison Brie (co-writer and actor) about their latest film, "Somebody I Used to Know." This unconventional love story shows three people unexpectedly helping each other re-discover themselves, where they came from and where they are going.
Some films Franco has starred in are "Now You See Me," "21 Jump Street," "Nerve," "The Lego NINJAGO Movie" and "Easy A."
Brie has starred in "Community," "Bojack Horseman," "Mad Men," "Glow" and "The Lego Movie".
Brie stars as Ally, a TV host facing a major career setback who returns to her childhood hometown. Upon bumping into her first love Sean (Jay Ellis), she questions their lost love and who she has become. Complexities arise when she meets Sean's fiancé, Cassidy (Keirsey Clemons), who seems to embody Ally's past self.
On Feb. 9, I attended the Ritz Carlton theater's film screening with Franco and Brie introducing their film.
Ally's character's passion for streaking was based on Brie. "I went to art school where the policy was that clothing was optional anywhere but the cafeteria. So, it wasn't uncommon to see people doing an art installation where they were painting their naked bodies."
Upon casting his wife with heartthrob, Jay Ellis, Franco realized the similarity between directing his horror film and rom-com is through pairing his "wife romantically with handsome, charismatic men."
On Feb. 10, the film was publicly released and I interviewed Brie and Franco. As the first interviewer, my burning Jewish question for the Jewish stars prevailed.
How has growing up Jewish impacted your filmmaking?
Brie explained the mother characters are based on their own mothers. "Jay Ellis's mom's name is JoJo, after my mom, JoJo, my Jewish mom, Joanne."
Franco noted that "Julie Hagerty embodies a lot of qualities that my mom has minus her sexual appetite."
"As far as we know," commented Brie.
"You know what? I hope she's doing her thing," replied Franco, describing his mother as "very sweet, a little quirky and kind of unintentionally very funny and endearing"
Brie's mother is "a classic Jewish mom. She's loud. She laughs a lot. She likes getting front and center. It's the best." Brie thinks "the cultural side of Judaism is very prevalent in our lives and my mom is always calling out the 'Jewish connection' and 'The tribe.'"
Brie reflected that the film's culture comes through in the familial closeness of the characters, such as JoJo's immediate acceptance of Cassidy, noting that she has had similar experiences with her friends and family.
What steered Franco toward directing after his successful acting career?
"I've wanted to take the leap to directing a feature for a long time, but candidly, I was scared." Franco was worried about commentators thinking "oh, this guy thinks he can do this other thing now too." He eventually stopped caring what others think. "I knew I had this urge inside of me that I needed to get out." Franco has enjoyed directing on set the most.
Why is it important to challenge rom-com tropes?
Brie and Franco strived for originality without reinventing the wheel. When viewers think, "'I know where this is going', we try to pull the rug out from underneath them every step of the way," said Franco .
Brie explains "You got to know the rules to break the rules." They describe their film as breaking the rom-com formula: "an ode to the genre and an anti-rom-com at the same time."
Modern movie characters watch rom-coms and therefore resonate with the genre. "We name-check a lot of rom-coms in this movie because that's part of our vocabulary. There's an organic nature to following the characters to their natural conclusions."
What's the film's overall theme?
The original pitch was an adult coming-of-age, "Trojan-horsing this female empowerment, self-transformation story."
The central theme focuses on what brings someone joy because "it's never too late to reflect, re-evaluate and return to a passion-driven path." This is explored through returning home, revisiting the past and self-reflection. The use of the-one-that-got-away trope examines inevitably doomed relationships and learning when to let go. "I don't think this movie takes a pro- or anti-relationship stance. It's about being true to oneself," said Brie.
"We're at an age now where we're not looking ahead to what our life is going to be. You can't help but to reflect on your journey…It's not too late to pivot if you're not content with where you're at," said Franco, remembering his father, who studied painting in college but stopped for forty years. He returned to painting in his final years and Franco's "never seen him happier. The lesson is if you have these urges, listen to them."
What inspired the soundtrack?
Franco discovered their "teenage adolescence," Third Eye Blind's lead singer Steven Jenkins, grew up in his hometown, Palo Alto. Franco personally asked to use his song, "Semi-Charmed Life," Jenkins was ecstatic.
Brie and Franco's relationship also inspired their selection, especially with Alabama Shakes' "I Found You".
The timeless soundtrack features old hits, teen-year throwbacks and new music. Brie and Franco searched for music that "people know and a hook that you're so familiar with that even if we change all the lyrics, you still kind of know what song we're singing" said Brie.
What advice do you have for college students?
"Everyone has a camera on their phone now. There's no excuse not to start practicing and doing it yourself to get experience, hone your skills and take risks" Franco's early, offbeat content on FunnyorDie.com showed "there was nothing to lose… worst case scenario, no one sees it."
Franco and Brie started young and took risks for the love of the game. "When you get a little bit of success, a little bit of fear creeps in. To avoid making a wrong move, you hang onto it too tightly," notes Brie. The entertainment industry is unpredictable but "you can't go wrong when you're staying true to yourself."
Concluding the interview, Brie said our questions were the best they had received on tour. "It's very refreshing doing these college roundtables. It makes me hopeful for the future. Go birds baby!"
While posing for our photo, Franco noticed my DragonCard in my phone case. He pulled out his phone, telling me he has the same. His phone case had a photo strip of him and Brie. Adorable!