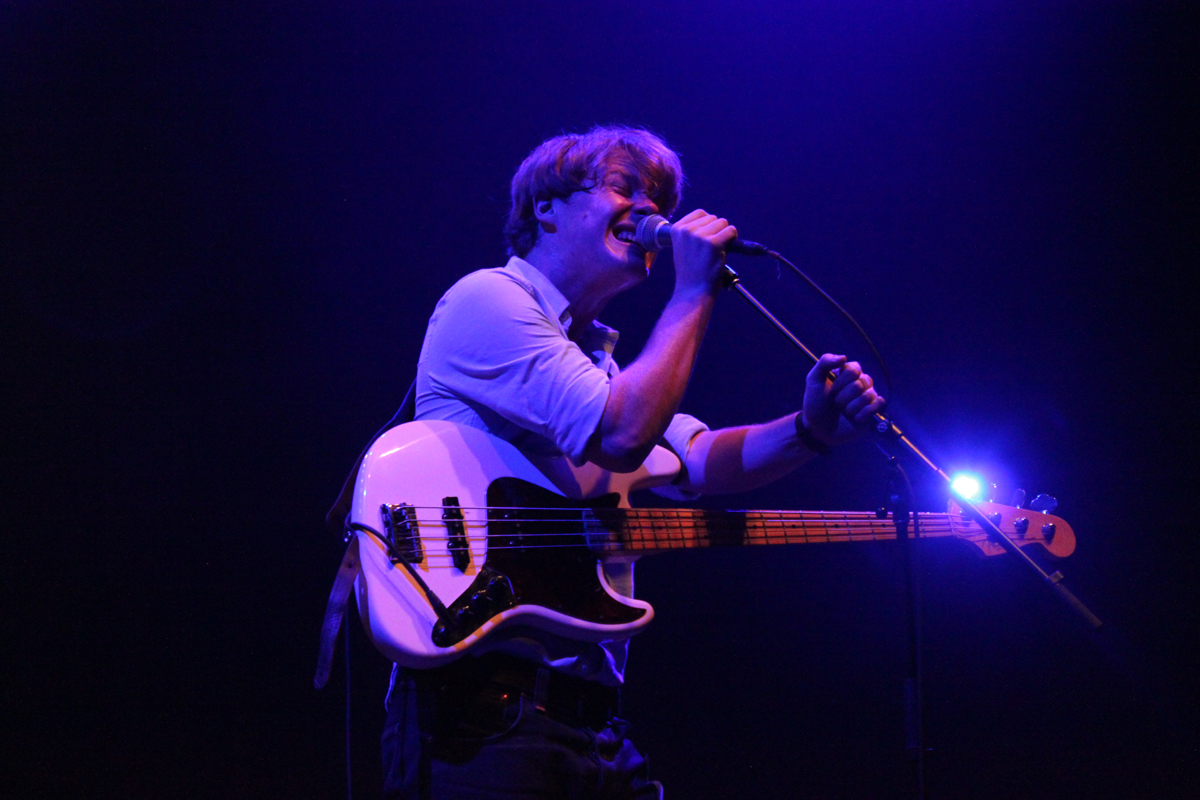 British band The Crookes joined San Francisco-based Geographer at Union Transfer April 17 for a lively night filled with indie rock. Though the crowd at the tiny venue was small, both bands fully delivered, marking a perfect conclusion of their month-long tour together.
As the waiting crowd sprawled across the dusty floor of the venue, The Crookes snuck on stage, immediately rocking out to, "Where Did Our Love Go?" Fans abruptly rose, rushing to the stage and instantly singing along.  
Even without much commentary, lead singer George Waite still evoked roars from the audience with his soft smile that remained plastered on his sweaty face throughout the 40-minute performance. When he did talk in between songs, his distinct accent triggered wide grins and googly eyes. Waite continuously expressed his gratitude for his three band mates, Tom Dakin (backing vocals, guitar), Daniel Hopewell (backing vocals, guitar) and Adam Crofts (drums).
Thankful to be on "American soil," Waite went on to admire Geographer, sad that their tour was ending. Dedicating a fan-favorite, "Backstreet Lovers," to them, the song proved to be the strongest of their setlist, closely followed by "I Wanna Waste My Time On You," the most well-known song of the night.
Moving quickly from song to song, Waite's warm vocals remained smooth, yielding a perfect tone. Even when Dakin dealt with guitar problems through several songs, Waite's voice was unperturbed, exuding a flawless timbre.
Though the crowd wished for a longer performance, Geographer continued the excellence. Their distinct electronic rock was new to me, but by the end of the night I was hooked.
Making a dramatic entrance to mystifying music, frontman Michael Deni strutted onto stage with band mates Duncan Nielsen (guitar, bass), Cody Rhodes (drums) and Joyce Lee (keys, cello). Beginning with a fan-favorite, "Kites," the band started strong and ended even stronger.
Deni left the comforts of his New Jersey hometown at a young age to begin anew in San Francisco. Coming across a synthesizer, his life was forever changed and he began making techno tunes. Their performance showcased Deni's impressive synthesizer skills.
For each song, Deni began by recording a melody on the synthesizer and then he looped it throughout the song. His incredible talent became increasingly evident through each song, and reached an apex when he whipped out a saxophone, perfectly hitting each note. I just wish he did more acoustically to showcase his impeccable vocals. Though his synthesizing skills were remarkable, his voice stands strong alone, as shown during the song "Verona."
Before wowing us with the song, Deni joked, "Are you guys ready to get a little intimate? Philly's not afraid of direct eye contact, I know that…" The three others left the stage, leaving Deni alone to shine. Since he didn't use his synthesizer, nothing could cover his amazing voice that boomed through the venue. His beautiful vocals were perfectly balanced by striking guitar. Halfway through the song, he dramatically turned the synthesizer back on and the rest of the band sprinted back onto stage. The sudden shift in the song came as a surprise, and each member jumped in front of the stage tapping wood blocks to the beat, with their superb coordination leading to rapid applause.
Ending with, "I'm Ready," incessant shouts for an encore lead the band to come back to jam to a few more songs.
At the end, the band also expressed their sorrow towards the tour ending. Deni genuinely declared, "We're going to miss The Crookes, but they're invited to my mom's house for brunch tomorrow!" jokingly adding, "You all are welcome… if you can find it!" Returning to a serious note, he went on to say, "We love you, we love your accents, we love your music!"
For a small show, big talent filled the venue. Both The Crookes and Geographer put on incredible performances with some of the best vocals I've heard in a long time.