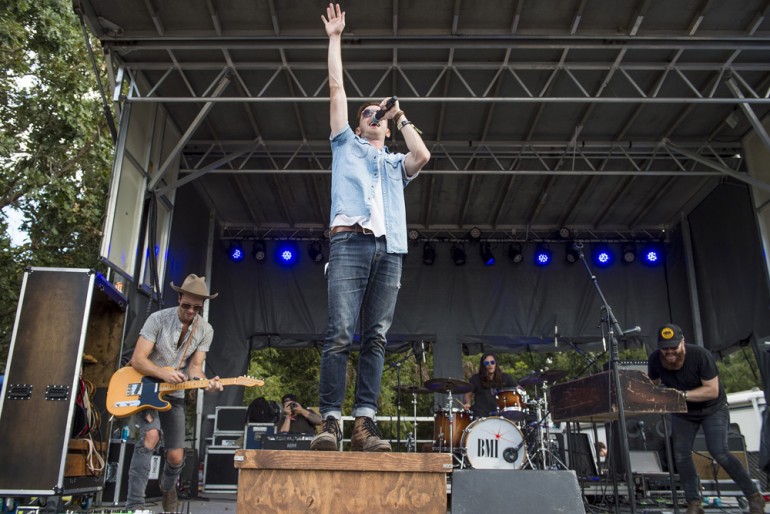 In the millennial age of distraction and performance based music, LANco is an authentic country style band with a unique contemporary twist. The band owned the stage Nov. 10, at the Theatre of the Living Arts by playing a variety of songs.
LANco is an ideal band to see live due to the inclusive nature of their music and their overall captivating stage presence. Recordings cannot fully capture the new age country band's skillful and engaging performance.
No fancy lights or effects were needed since each band member offered something in the live performance beyond musical talent. I'm referring to Brandon Lancaster jumping in the crowd during a song to play the drum chant lyrics with the fans and lead guitarist Eric Steedly dancing on stage while masterfully playing a guitar solo.
Something particularly great was seeing the band act like friends on and off the stage. This is no surprise because LANco first assembled as friends. It is clear on stage that the relationships remains intact just by viewing the personality and style that was projected from each member on stage.
The message the band conveyed is strongly articulated through their single "Long Live Tonight" which is the song they chose to end their performance. The song is about being present and in the moment.
LANco is one of the few bands I have recognized to embrace the 21st Century culture of distraction. They recognized this theme and sang about acknowledging the importance of every day, especially the unforgettable moments away from the distraction of technology.
This is not to say the band is rejecting pop culture. In fact, the band's sound clearly embraces pop culture by playing easy-to-listen-to, catchy lyrics. They are a great example of how traditional country is adapting to millennial listeners and audience.
When asked what they wanted their fans to know, Lancaster discussed how much the band truly appreciates its fans. He spoke about how the band loved creating a community between them and their fans, as well as their passion for meeting and talking with the fans. They often stay after shows just to hang out with their following.
As Lancaster pointed out during our interview, the band is in fact made up completely of millennials. Despite their popularity, they have an authentic "small town" culture, meaning they were relatable, easy to talk to, while acknowledging their 21st Century, millennial identity.  
LANco is a band I'd recommend seeing live even if you're not part of their fan base. Their lyrics from "Long Live Tonight" excite people and influence them to "Just live in this moment" and enjoy the show.