"Excelsior!" This is the personal credo of Pat Solitano (Bradley Cooper) in writer/director David O. Russell's "Silver Linings Playbook," a Philly-centric romantic dramedy based on Matthew Quick's 2008 novel of the same name, blending both football and romance. Known for getting into fights on his movie sets, Russell (director of 2010's Academy Award nominee "The Fighter") injects some of his own craziness into a movie about a teacher with bipolar disorder who finally snaps after finding his wife, Nikki (Brea Bee), in the shower with another man. He spends eight months in Baltimore at a mental health facility, where an idea hatches in his feverish brain: If he works hard and reinvents himself, his wife will return to him.. Despite the dark subject matter that is mental illness, the director does a wonderful job of creating a poignant picture, striking a nice balance between laughs and emotion. Though formulaic at times, the film is helped by Russell's dialogue, smooth direction and stellar performances from the lead actors.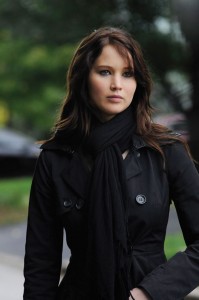 Despite Nikki's restraining order against him, they are still very in love in Pat's mind. He refuses to accept that she's gone, prattling on about how happy they'll be together and how strong their love will be. Once his mother retrieves him from the mental health facility (with the court's permission, of course), they return home to Philadelphia. Here we find that the Solitanos are the paradigmatic Philly-Italian family. His father (Robert De Niro), Pat Sr., is a superstitious die-hard Eagles fan, a man banned from Lincoln Financial Field for beating up too many people. De Niro plays the role with sincerity, blaming himself for his son's poor mental health and trying to remedy this by spending more time with him. Pat's mother (Jacki Weaver) is a woman who can cook up a braciole every time the Birds are playing but is unsure of how to deal with her son. In an extremely convincing performance, Weaver grapples with a mother bird conundrum: Should she keep her baby in the nest or let him spread his wings? Another noteworthy performance comes from Chris Tucker, who plays Danny, Pat's innocuous friend from the mental health facility, who just can't seem to stay a free man.
While at home, Pat bumbles about, giving Russell the chance to show us just how socially inept and stubborn the protagonist really is. Saying more inappropriate things than appropriate things, Pat has the perfect formula for creating awkward situations. Usually playing the suave and confident character, it is nice to see Cooper shed his cool-guy skin and play a guy who has no idea what the hell is going on. He refuses to take his medicine, throws books out of windows and shows up to a dinner party in a DeSean Jackson jersey. All these incidents help add a comedic realness to the film. Nevertheless, he is not without his dark moments. For instance, Pat arrives home one night, tearing apart the house, looking for his wedding video. This scene is intercut with flashbacks of Pat beating his wife's lover within an inch of his life. Led Zeppelin's "What Is And What Should Never Be" blaring in the background helps convey Pat's mental state at the moment while adding to the bedlam of the evening. This is Cooper at his finest, topping his performance as the all-knowing Eddie Morra in "Limitless." This will cement his status as more than just a comedic actor.
Pat finally meets his match in the enigmatic Tiffany Maxwell (Jennifer Lawrence), the sister-in-law of his friend Ronnie and a recent widow who has a neurosis of her own. Lawrence embodies the role with a seemingly reserved facade at first, only to show the audience that she can bite your head off. Like Katniss Everdeen, Ms. Maxwell is full of surprises. The two get off to a rocky start as Tiffany begins to follow Pat around on his daily jogs; however, the chemistry between the two is unmistakable (despite the 15-year age gap between the two leads). In his well-crafted screenplay, Russell weaves hilarious conversations between the two. She is also Pat's loophole around the restraining order, so the two strike a deal: She will deliver a letter to his wife if he agrees to be her partner in an upcoming dance competition. As the two begin their training, Pat finds himself torn between his commitments to his family and Tiffany. (In the end, two become fused together, leading up to a high-stakes dance number reminiscent of "Pulp Fiction"). During a montage of their training, Bob Dylan and Johnny Cash's "Girl from the North Country" plays. The choice of this calming song is a contrast to Pat's earlier impulsive self.
A word of caution: You will be able to see the ending of this movie coming from a mile away. However, it's not the destination but the journey that counts. In this case, the journey is an emotional roller coaster, and nothing about it seems fabricated, except its cliched conclusion. I don't know if this film is a credible guidebook for finding happiness, but if you're looking for pure entertainment, this movie is, well, a silver lining.