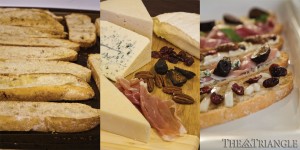 Bruschetta is one of the most versatile antipasto. The word bruschetta only refers to the bread itself, which is typically tossed in olive oil, salt, pepper and rubbed with garlic after being toasted. Thousands of combinations come to mind when I think of bruschetta, all of which involve some variation of cheeses, meats, dried fruits, nuts, herbs and vegetables. While developing a list of ingredients for this article, I found it difficult to choose from the many wonderful options. A variety of cheeses came to mind; I needed something salty, something sweet, something tangy and something smooth — namely, pecorino (a nutty sheep's milk cheese), goat gouda (an excellent combination of the firmness of gouda and the pungent taste of traditional goat cheese), roquefort (a tangy bleu cheese) and a terrific French brie. As far as toppings, I decided not to go with the traditional tomato salad, but rather a slew of sweet and salty combinations.
Bruschetta
Ingredients:
1 loaf ciabatta
olive oil
salt & pepper
Directions:
Preheat oven to 375 degrees. Thinly slice the ciabatta (a bread knife will yield the most thin and accurate cuts). Toss the bread with olive oil, salt and pepper. Place evenly on a baking sheet and place in the oven; bake three minutes on the first side and two minutes on the second side. Finally, place the oven on the broil setting and toast the bruschetta for one minute.
Salty Prosciutto with Parsley and Toasted Pecorino
Top your toasted bruschetta with pecorino and toast for an additional 30 seconds until it is bubbly and golden. Top with prosciutto and parsley.
Sweet Dried Figs with Brie
Spread your toasted bruschetta with the creamy brie and sweet figs. Drizzle with honey for additional sweetness.
Crisped Prosciutto with Figs and Roquefort
Spread the bleu cheese onto the toasted bruschetta, place the prosciutto on top and toast for an additional 30 seconds. Finally, place the figs on top.
Goat Gouda with Honey and Dried Cranberries
Slice the goat gouda onto the bruschetta, top with dried cranberries and drizzle with honey.
Candied Pecans with Dried Cranberries and Brie
Place one tablespoon of butter in a small sauté pan. Put one half-cup of pecans into the pan, then toss. Sprinkle with a pinch of salt and a few tablespoons of brown sugar. Allow the ingredients to meld over low heat for a few minutes. Spread the brie onto the bruschetta and finally, top with the candied pecans and dried cranberries.