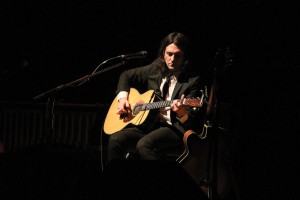 Conor Oberst performed to an enchanted audience Nov. 18 at Verizon Hall in Philadelphia's Kimmel Center. Supported by Daniel Johnston and featuring accompaniment by Rachel Cox and Ben Brodin, the 19-song set seemed too short for the concert's attendees.

Johnston, somewhat of a cult icon in the indie scene, began the evening. He rose to national notice when MTV featured him as a prominent member of the Austin, Texas, New Sincerity movement in a 1985 episode of "The Cutting Edge."

The New Sincerity movement was founded as an antithesis to the perceived irony of the postmodernist music culture and the cynicism of musicians and writers at the time.

Johnston's songs are earnest, whether joyous or grateful or heartbroken. His lyrics are simple, with beautiful comparisons and messages. Though his optimistic songs are almost saccharinely sweet, his angst-filled works bring to light his struggles with schizophrenia and bipolar disorder, lifelong conditions that have often threatened his success and safety. At this show, he was fortunately in good spirits and seemed to enjoy conversing with the animated audience.

Though several of his fans loudly requested it, Johnston did not perform "Devil Town," a song Oberst covered for his compilation, "The Late, Great Daniel Johnston." However, Johnston and an unnamed friend belted through a satisfying set, including covers of John Lennon's "Jealous Guy" and "You've Got to Hide Your Love Away." They also sang some of his best-known songs: "Walking the Cow," "Life in Vain" and "True Love Will Find You in the End," which received an overwhelming surge of cheers from the crowd.

The fact that Johnston, who offered a powerful but sparse performance, dominated such a prestigious venue as the Kimmel Center was something wholly special to see. The audience took any chance they could to shout out their love for him.

Oberst stepped out onto the stage to a fervent, awestruck round of applause. Oberst has been slightly tweaking his setlist throughout this tour, but he played arguably his best collection of songs in Philadelphia.

Audience members could be heard beforehand wondering to each other whether he would play only his solo work or delve into the canon of the four bands he primarily performs and writes with.

These include emotional indie band Bright Eyes; the Mystic Valley Band, the subject of the documentary "One of My Kind," which recently reunited to the surprise of almost everyone and released a blistering track about the Trayvon Martin case earlier this year; and Monsters of Folk, a supergroup featuring Bright Eyes collaborator Mike Mogis, My Morning Jacket's Jim James, and She & Him's M. Ward.

The concert featured a majority of Bright Eyes songs, accompanied by Cox's vocals and Brodin on the vibraphone. The show began with "The Big Picture" from 2002's "Lifted or The Story is in the Soil, Keep Your Ear to the Ground." To the audience's palpable delight, this was followed by "First Day of My Life," which is arguably the most well-known Bright Eyes song and an indelible romantic indie classic. A new song, "Common Knowledge" (preceded by a few jabs at Mitt Romney), was followed by two Mystic Valley tracks, "Lenders in the Temple" and "Cape Canaveral," which earned some cheers from the highest tier in Verizon Hall with the lyric "Victory's sweet, even deep in the cheap seats."

"At the Bottom of Everything," another fan favorite, is a song that sounds as good live as it does on record, as is "Shell Games" from the last Bright Eyes album, "The People's Key," stripped to its bones. Closing out the concert with "Breezy," the encore started almost immediately with "Lua," with Cox taking on a few verses. "Waste of Paint," a song about love, faith and art, was a fitting closer, as many of Oberst's songs touch upon these themes, and the piece is markedly inspirational for many fans and listeners.

This is the third time I have seen Oberst live, and each time I have left the venue moved, delighted and wanting just one more song.