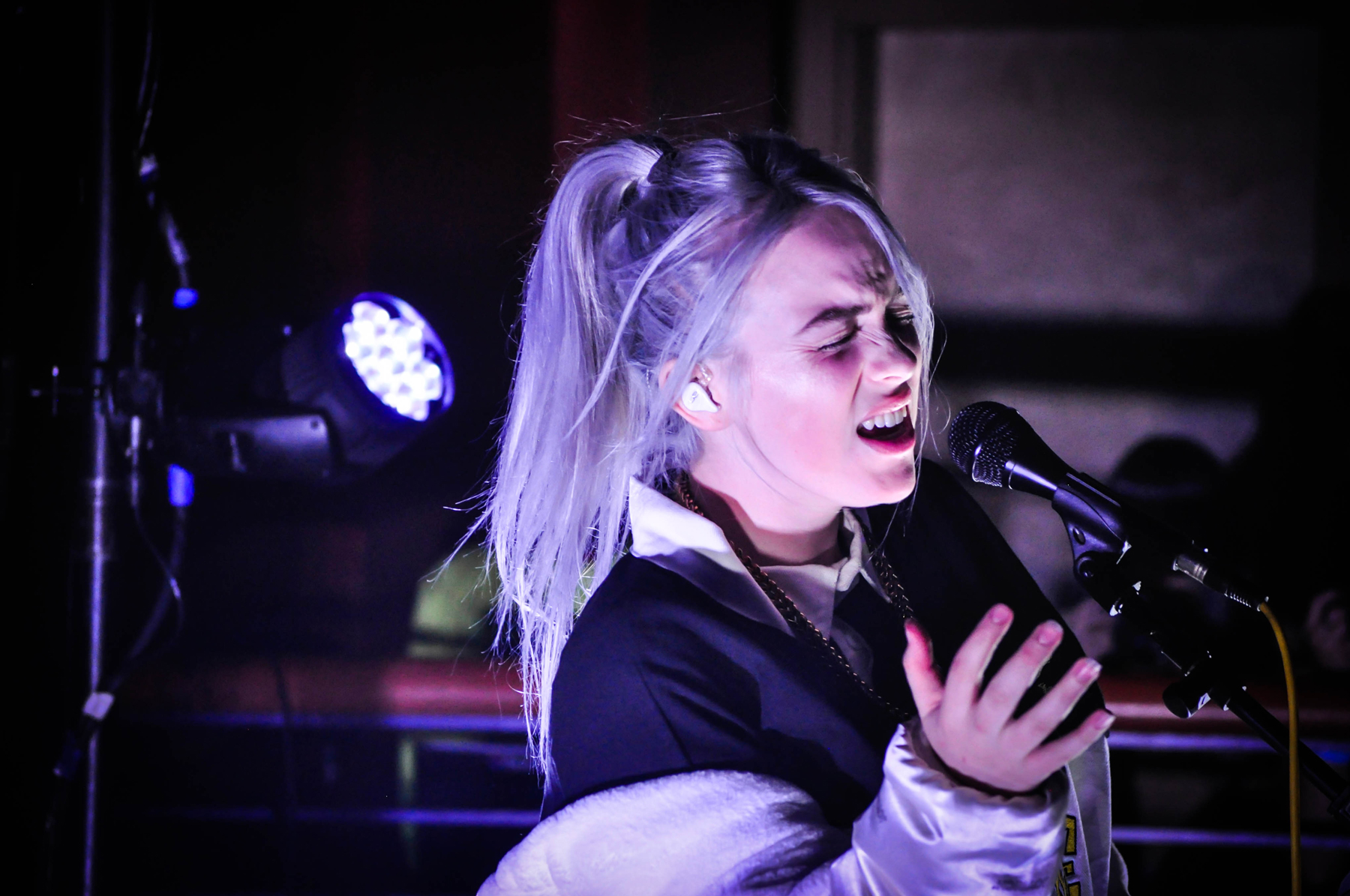 If you have not heard of Billie Eilish, you are about to. The world has already taken notice. Major magazines Vogue and W have described her as "pop's next It Girl" and a  "prodigy."  
Oct. 20, Eilish performed a sold out show at World Cafe Live. At only 15 years old, Eilish has already gained impressive popularity, and is currently on a world tour. Her fans are incredibly passionate about her music and Eilish herself. The packed crowd had fans boasting about arriving as early as five to get a good spot for the 9 p.m. show. It felt like everyone knew every word to every song. In addition to that, fans hung onto every word she said between songs. The crowd was definitely on the younger side, with teenagers and younger kids who looked up to Eilish as the next "cool girl." Not only does Eilish have an unforgettable, soulful sound, she writes her own songs and has an electro-pop style that is all her own.
Taking the stage in a metallic winter coat, sweatpants and sneakers, Eilish and her brother Finneus performed as a pair for the Philadelphia show. There was not a single dull moment of the set. Her energy was consistent and evocative, performing every song as if it were her last. Standout performances were "my boy," "Ocean Eyes"  and "Bellyache." Eilish's confidence gave her the appearance of someone who had been performing for sold out audiences for years. She was incredibly comfortable speaking to the crowd and navigating the small stage while still being humble in receiving the crowd's support.
An exciting surprise came when she gave her brother a chance to to sing on his own. He captivated the audience with a beautiful, soulful voice and they sang together toward the end of the show as well. Obviously a talented family, he could easily have a solo career as well.
Eilish started her singing career as a member of the Los Angeles Children's Choir at only nine years old. Her main focus until recently, though, was competitive dancing. Billie and Finneus wrote the song "Ocean Eyes" brother solely for background music to one of her dances. They released "Ocean Eyes" online in November 2015 to see if anyone would like it. Today, the song has over 20 million plays on Spotify.
Her musical sound is reminiscent of Lorde, but she differentiates herself through her songwriting style. She writes songs from the perspective of a character she has created, in addition to drawing from her personal experiences. Her lyrics are modern and trendy, in the sense that they sound like an authentic teenager in 2017. The song "my boy" opens with the line "My boy's being sus, he was shady enough, but now he's just a shadow," which is a lyric that would not have been written even five years ago.
Eilish signed with Interscope Records in 2017 and released her first album, "don't smile at me," in August. Her song "Bored" was featured on the hit Netflix series "Thirteen Reasons Why," which gave her mainstream exposure.