After signing to a major label, many musicians often find themselves boxed in with no distinct voice. Wrestling to gain control over their own careers, they are frequently constrained to the way music executives and industry leaders believe they should sound.
Cody Simpson, who performed at the World Cafe Live April 5 with Ryan Beatty and William Bolton, once felt he could not freely express his artistry. But recently he has turned the tables around, parting ways with Atlantic Records and grabbing his career by the horns and steering it in a new direction.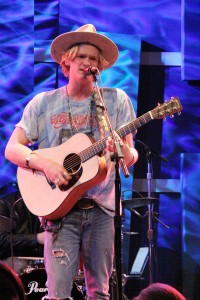 When Simpson first arrived on the scene, the now 18-year-old singer was branded as a teen-pop star living in the shadows of Justin Bieber. Doing away with the teen-pop sound, stage gimmicks, upbeat choreography and background dancers, the crowd saw another side of the Australian-native during his raw, 16-song set.
Wearing a tie-dye T-shirt, oversized western hat and distressed jeans with a black bandana knotted to the belt loop, Simpson introduced new tunes, including "Happy Little Hippie" and "ABC," that favor Jack Johnson and John Mayer. He mentioned that most of his music was written out of his current home in Malibu, California, and that he gained inspiration from both the beach environment surrounding him and his current relationship with model Gigi Hadid.
Based on his performance, his new music is a melting pot of different sounds and genres comprised of reggae and soft rock. It gives off a relaxing, carefree aura, which is a change of pace from what he has done in the past.
In between songs, Simpson, who covered the classic "Three Little Birds" by Bob Marley and "Four Five Seconds" by Paul McCartney, Kanye West and Rihanna, explained his musical transition to those in attendance Sunday night. Simpson said, "I'm going through this very great journey at the moment. Not too long ago, I left my record label and decided to make my music independently, funded by myself through my own label, Coast House Records. It's a really cool feeling doing that because now there's no middleman. I was so sick of having to go through all of these people to get the music to [my fans]. I was like, 'Why should you, old bloke in a suit, be telling me what kind of music to make?'"
He added, "I've never lived that way and I've never wanted to live that way. I was straying away from my true self. I'm so glad that I get to share this journey with my fans and what I'm learning along the way. This isn't just me. This is all of us. This is something that I want to encourage all of you to do, which is to remain true to yourself and never let anyone tell who you are. Stay free of anyone telling you what to believe or think — think deeper."
With the help of songwriter and producer Cisco Adler of Shwayze, Simpson will release his first independent album "Free" this summer, which features the popular, easy-going single "Flowers."