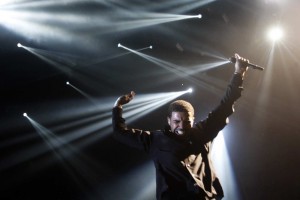 A double dose of Drake
Drake fans got a sweet treat earlier this week when the rapper released not one, but two music videos for "Take Care" featuring Rihanna and "HYFR" featuring Lil Wayne, both off of Drake's latest album, "Take Care."
The video for "HYFR," which stands for "Hell Yeah, [expletive] Right," starts out by showing a younger version of Drake dancing at his first bar mitzvah. Next, the viewers are transported to October 24, 2011, where Drake decided to have a second bar mitzvah in order to recommit to the Jewish faith. The following scenes show Drake at temple and then at the insane afterparty. One notable part of the "HYFR" video occurs when his guest, emulating the bar mitzvah horah dance, lifts Drake in a chair while he raps.
As for "Take Care" featuring Rihanna, this video takes a much more serious tone. Featuring former lovers Drake and Rihanna in an intimate hug, this music video also showcases a bull and a very large bird. While I have no idea what these animals represent, the video is extremely visually appealing. It also makes me wonder why Rihanna and Drake aren't taking care of each other in real life.
Has Kanye West found his Beyonce?
America has a new royal couple. Recently, reports have been circulating that rapper Kanye West is dating reality TV star and businesswoman Kim Kardashian. Last week the pair was spotted on a series of dates in New York City. They did what any normal couple would do: they saw a movie, enjoyed a play, went to lunch and even had a sleepover at West's Tribeca apartment.
Having been friends for many years, West recently revealed his feelings for the reality star in his new single, "Theraflu," stating, "And I admit I fell in love with Kim, around the same time she fell in love with him. Well that's cool baby girl, do your thing. Lucky I ain't had Jay drop him from the team." The "him" West is referring to is Kardashian's soon-to-be ex-husband, Kris Humphries, and "Jay" refers to rapper Jay-Z, who is also part owner of the New Jersey Nets, the team Humphries plays for.
While Kardashian has been mum about her relationship status with West, her sister Khloe hasn't been so discreet. Appearing on "The Ellen DeGeneres Show" April 11, she told DeGeneres, "I think they're cute together. … I think friendship is where good relationships stem from." As for West, "Us Weekly" is reporting that the rapper feels that Kardashian is "his Beyonce."
Has Alec Baldwin gone rogue?
Alec Baldwin has had a rough week. Earlier this week, Canadian actress Genevieve Sabourin was arrested for creeping outside Baldwin's New York City apartment. According to TMZ, Sabourin had tried to get into contact with Baldwin three times in the past two weeks.
Sabourin was actually introduced to and had dinner with Baldwin back in 2002. According to reports, Sabourin has begun texting and emailing Baldwin with increasing aggression, asking to borrow money and to have his child. It's no wonder Baldwin called the police.
That isn't the only incident plaguing the "30 Rock" star. Yet again Baldwin took to his Twitter to disgrace the "Today" show for camping outside his apartment with other media outlets trying to get a comment about the stalker incident.
Baldwin tweeted, "The television crew camped outside my apt said they were with the Today Show #howthemightyhavefallen."
"A story about stalking sure brings out the stalkers in the media, but the 'Today' show? … I think I'm leaving NBC just in time."
While Baldwin going on a Twitter rage isn't anything new, his last tweet has sparked some discussion about his future on "30 Rock." What will Liz Lemon do without Jack?