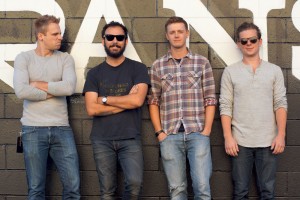 In my opinion, the state of Georgia is recognized for producing two things: peaches and the powerful four piece pop-rock band from Conyers, Cartel. If you haven't heard of them or their most popular songs, "Honestly" and "Say Anything (Else)," then take some time to give them a listen.
Made up of vocalist and bassist Will Pugh, guitarist Joseph Pepper, bassist Nic Hudson and drummer Kevin Sanders, the guys are currently in the midst of their extremely short run on the East Coast with Seahaven and The Early November. Although the tour is short, drummer Kevin Sanders said, "[This tour will be] exhausting. The shorter [tours] are the ones you have to look out for because you'll try to cram four to six weeks of partying into three weeks of partying."
The band played Oct. 6 to a half-packed Union Transfer, the same place they played just a few months ago when they shared the stage with Set Your Goals. The crowd was older than I anticipated, and about 70 percent of the fans were drunk, but given the fact that both Cartel and The Early November are fairly older bands, it made sense.
The band opened with "Luckie St.," a crowd favorite and a song off Cartel's debut album "Chroma." Throughout their set they played an eclectic mix of newer and older songs. This included songs off their newest EP "In Stereo" but nothing brand new. Unfortunately there were no sneak peeks at their upcoming album. They played songs such as "If I Fail," "Get Up," "Burn This City," "Conduit," "The Perfect Mistake," "Say Anything (Else)," "Honestly" and a few more.
Prior to the show I sat down with the band to talk about the band's future. Pugh said that the band will "probably be releasing a song or two before the end of the year" and that "the record will come out super early next year."
A few weeks back, Cartel spent 11 days in the studio, played a handful of shows in Australia, went back to the studio for 10 days and is now on the current tour. When they arrive home after this tour, they plan to finish the album. I'm going to assume that the fourth album title will follow the current trend and start with a "C," but I couldn't get the guys to admit I was on to something for their self-produced album.
"The band is self-releasing all [of its music] now, and I think I speak for everyone when I say that it's the best feeling to know that everything is just in our control. We know what should be going on," Pugh said. "It's very efficient, and everything is happening the way we want it to happen, and it's the best it's ever been," he added.
When asked if the sound was going to take a new direction or mature in any way, Pugh said, "The 'In Stereo' EP is a good indicator of what this record sounds like; it's a little more focused and obviously [has] more songs."
He continued, "We've gotten older, so there are certain things we would have done back in the day like 'Should we mosh breakdown? Nahhh!' Because that means we have to mosh, and we're too old to do that," Pugh chuckled. The rest of the band laughed in agreement.
"Yeah, I'm not moshing, no way am I moshing," Pepper added.
Although the band didn't do any sort of moshing onstage throughout the night, the crowd was a never-ending mosh-pit with plenty of stagediving and crowd surfing. Many bands love when crowds show them a good time, and Philadelphia was no exception. Midway through the set, Pugh shouted to the crowd, "We knew this was likely to be the best night on tour, and you haven't proven us wrong!"
When bands announce tours, they rarely skip Philadelphia. On this short tour the band felt the Philly date would bring the heat, and it did. They mentioned that their touring history in Philly had been exceptional, and considering that they've played with bands like The Starting Line, The Early November and New Found Glory, it makes sense.
"We've always played Philly on every East Coast tour that we've done, and I feel like there's mutual love here. It's always a good time, and we've had some of our more fun shows here," Pugh said.
I couldn't leave without asking them if they had gotten the opportunity to experience what all Philadelphia visitors need to try: a real Philly cheesesteak. I was pleasantly surprised to find they'd tried multiple places over the years.
"You mean the ones with all the lights that are like right across the street from each other?" Sanders asked. "And like Giovanna's? Or Gianna's? Is that one?"
"Gianna's, but I think they closed. It was like a vegetarian place. They're actually not bad if you're vegan or vegetarian, but we usually go for Jim's just because we've had it so many times before," Pugh answered.
Before the night was over, Pugh gave some advice to the students of Drexel University:
"Learn everything. Learn all facets of the business because the more you can do autonomously, the better you're going to be. Plus if you have to bring other people on [to work for you], you'll know what to expect from them. Cross your fingers and network."
Keep an eye out for Cartel's fourth full-length album in the next few months, and don't miss the band's next concert in Philadelphia!