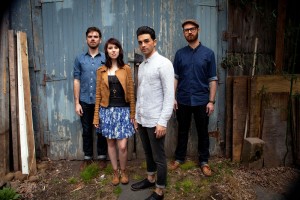 Coming off of the success of his previous band, Dashboard Confessional, Chris Carrabba started Twin Forks, an upbeat indie folk ensemble, in order to create a sound derived from his earlier musical influences.
In an interview prior to Twin Forks' performance at the Theatre of Living Arts May 18, Carrabba mentioned some artists whose influence can be found in his new project. The band's sound is comprised of motifs similar to those heard in Dashboard Confessional as well as Paul Simon, The Everly Brothers and Woody Guthrie.
"Specifically Lindsey Buckingham's guitar playing … I had already taken the influence of the melodies in my writing for most of my life and now I'm embracing the parameters and the song structures and the delivery of the style of guitar playing," Carrabba commented on the specifics functions that the aforementioned bands served in molding Twin Forks' new self-titled album.
Combined with the unique timbre of Carrabba's voice, that is so prominent in both his past and present musical endeavors, the incorporation of more mature and classic folk influences perfectly reflects the evident metamorphosis of Carrabba's career, as well as the distinct youthful and modern aspects of his ever-developing musical style.
Opening for Augustana at the TLA, Twin Forks performed charismatically and drew both enthusiasm and interest from their primarily young adult audience. While it's never easy to win over an unfamiliar audience as an opening act, Augustana's similarity to Carrabba's previous musical endeavors didn't hurt the band's chances at doing so. The more mature indie-folk hybrid definitely seemed like something that would appeal to those who may have outgrown Dashboard Confessional's more pop-punk vibe. Regardless of their favorable chances, Twin Forks preformed their 45-minute set with the confidence of a headliner, and by the end of their performance the crowd acted as though that's what they were.
While parts of the band's style can be attributed to Carrabba's desire to play something more similar to his musical roots, Twin Forks' sound, unlike that of Dashboard Confessional, can also be credited to the more collaborative songs and unique writing method.
"I will generally write a song just a room away from all the other bandmates. I don't write all of the songs or all bits or all the parts or anything. … But when the band developed an innate understanding of the feeling and meaning of these songs as a band … we stumbled onto what Twin Forks would become. I would record the song quickly after having written it, with vocals and a guitar, we'd take a quick drive, listen to the song two or three times, and then we'd come back to the garage where all the mics were set up and just play it," Carrabba said.
Carrabba further elaborated on the band's uniquely impulsive song writing style and the flexibility that is granted from the evanescent and malleable structure of each song at its inception.
"It wasn't like we were looking for mastery. … You can't master a song in two listens. … But usually it takes people weeks and months and maybe a year to rehearse before they go to make a record and that's just not what we wanted to do. We wanted to have an understanding of what the song I had just written was, and that allowed the song to become anything else because it didn't have the chance to be engendered that way; it didn't have the chance to be permanent. I had already forgotten what I had intended it to be by the first note we played together. And then it was all surprise — cheering and hollering and stuff all over the place — because we were looking for the opposite of pristine; we were looking for the fire," he said.
Even more idiosyncratic and unique feature of Twin Forks' band dynamic can be found in their production process. With each member having been producer to the work of other musicians, working in "a band full of producers" creates an interesting perspective for the band's bassist and producer Johnathan Clark. Clark works from a perspective that encompasses the opinions and ideas based on the well-trained ear of each member of the band.
"We're all touching the dials, we're all configuring the room. … Often times recordings can be pristine; they're expected to be. Johnathan's whole idea was to find out how it could sound better than the band playing for you in a live setting. So that's what we tried to do. A lot of it was him defining the sonic template of the record. One thing I admire is that when someone makes a mistake [during a recording], unless Johnathan gives you the signal to stop, you just keep going. And he'll tell you that you didn't play it wrong, you played it differently. He's very high-minded in his musicality. If I play A that was supposed to be an A flat, he's already thinking of horn parts or mandolin parts to go with it. And that's the way it's always been. He was just waiting for someone to make the accident," Carrabba said.
Emphasizing the importance of having all of the recorded instruments live within one tracking session, Carrabba mentioned the various instruments that can be found in the Twin Forks arsenal. Mandolin, banjo, violin and trumpet parts are incorporated into a number of songs. The band also transfers the numerous parts to their live performances
From their professional and eager demeanor during their performance at the TLA, it's clear that the Twin Forks is ready for a larger stage. With a balanced and clean sound that only comes from experience, the band members demonstrated their ability to adhere to their own style in a live setting, as well as the capability to sound just as good, if not better than their recording.
The band exhibits an ability to accurately and passionately represent classic folk music in a more modern way, and their songs consists of a poignant culmination of two genres, rather than the more insipid version of folk that are commonly incorporated into different genres music. The fervid and broad chorus vocals and expertly incorporated folk instruments lent to a successful performance for Twin Forks. Hopefully future audiences will be able to spread the fire that this indie folk band has found.