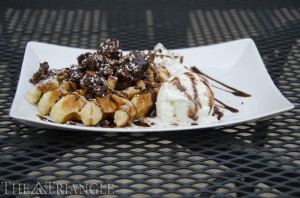 Italian for sweetheart, Carina Tea and Waffles is the brainchild of Edmund Lee and Stephanie Chan, two University of Pennsylvania alumni whose personal story is woven throughout their aesthetically pleasing and well-designed cafe. From the repurposed counter top to the uniquely cut wooden tables, each aesthetic detail was meticulously selected by the owners, who designed the entire eatery themselves, in order to reflect their personal tastes and vision.
While the storefront and interior are drenched in reflections of the couple's personality and vision, the interestingly combined contents of their menu are distinct to their individual experiences and tastes as well. While interning in Belgium, Chan discovered the Liege waffle: the classic Belgian waffle's more doughy counterpart. Unable to locate this particular waffle in the United States, she then made it her quest to bring Liege waffles, as good as those overseas, here to the United States. Importing sugar all the way from Belgium in order to authentically capture the taste and texture of this little known waffle. Her impressive attention to detail can be found throughout the process with which the store's teas are selected as well.
Chan and Lee frequently travel overseas in order to obtain the highest quality tea that is organic, fair trade and delicious. They import some of the best teas the world has to offer, including hibiscus from Egypt and lavender from France. After interning in New York City, Chan grew to love the many tea shops that the city had to offer and decided to bring the trend to Philadelphia and pair it with the Liege Waffle. Chan combined her culinary skills with her husband's business acumen to create Carina Tea and Waffles..
Featuring hot and cold teas, tea lattes and a sundry of bubble teas, the menu ranges from exotic to comforting and offers options to please any set of taste buds. Sampling two bubble teas — rose and hibiscus — with lychee and mango flavored popping bubbles, I was surprised and delighted with the full flavor and high quality of the teas, as well as the burst of exotic fruit flavor that followed. The ability to choose any flavor of their organic tea, popping bubble and level of sweetness allowed me to bend their menu to satisfy my particular craving and assured the cafe's ability to appeal to a wide audience.
I was given a freshly cooked, doughy waffle like none I've ever eaten before. Topped with Nutella, Azuki beans, pineapple sauce and a scoop of vanilla ice cream, the waffle was unique, exotic and blissfully decadent and left me more than satisfied, though curious and eager to try their other creations. If you haven't been to Carina Tea and Waffles at 37th and Chestnut streets yet, you're missing out.