Last week, Philadelphia held its 10th year of Restaurant Week in Center City. Presented by TD Bank, Restaurant Week is when many restaurants take part in serving a three-course meal for lunch and/or dinner, priced at $20 and $35, respectively. Because of this, making reservations in advance is a must, especially when renowned restaurants participate in the festivities.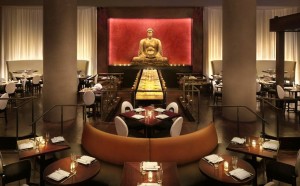 One such place is Buddakan, a modern Asian restaurant. As it is part of Stephen Starr's repertoire of eateries, my expectations for Buddakan were high because of the restaurateur's reputation for providing excellent service, ambience and food.
When I walked into the restaurant, I sensed the lively and energetic vibe. Every table was filled, and many anxious people were standing outside waiting for a table to be available. There was no doubt that Buddakan was a popular choice for Restaurant Week.
Situated at 325 Chestnut St., Buddakan provides a mixture of sophisticated and contemporary ambience. Right when you enter the restaurant, a large Buddha statue in the center of the restaurant immediately strikes your attention, making it the main focus of the restaurant's design aesthetic. The lighting is dim, making the dining experience more intimate and warm. The decor is remarkable and unique, and the furnishing is sleek and stylish.
The a la carte menu is not outrageously expensive but definitely not cheap. It's not exactly a regular spot for a college student to visit, but it is a great place if you would like to celebrate a special occasion with friends and family. However, their Restaurant Week menu included many delicious choices for the three-course dinner.
For the first course, choices included Cantonese Spring Rolls, Hamachi Sashimi, Chicken and Ginger Dumplings, and Buddakan House Salad. The second course offered Wok Cashew Chicken, Pan-Seared Sea Bass, Short Rib Chow Fun and Barbecue Pork Tenderloin. Lastly, dessert options included Chocolate Fondant with Vietnamese Ice cream, "Dip Sum" doughnuts and Coconut Panna Cotta. I ordered the Hamachi Sashimi, Pan Seared Sea Bass and Coconut Panna Cotta, and all were fantastic choices.
The Hamachi Sashimi consisted of fish sashimi topped with roasted pineapples and chilies — a refreshing choice for an appetizer. It was the perfect balance between raw and spicy components. This dish definitely opened up my taste buds and made me even more excited for my next two courses.
Next, I had the Pan-Seared Sea Bass topped with haricot verts, butternut squash, maitake mushrooms and truffle jus. The sea bass was soft and delicate yet filling. Overall it was a satisfying main course.
To end the dinner, I had the Coconut Panna Cotta with raspberry sorbet and pineapple-mango brunoises for dessert. The panna cotta was not too heavy or sweet and was a great way to wrap up the meal.
My experience at Buddakan was remarkable and delicious. The entire dining experience impressed me, and I would love to go back in the near future, even if it's not Restaurant Week!