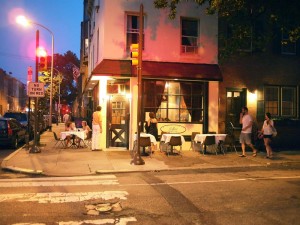 If you plan on going to Bistro La Baia, located at 1700 Lombard St., bring cash, and if you're of age, a bottle of wine. The alcohol is optional, but the payment method is non-negotiable. I had a brief panic attack when I heard the hostess say "cash only" to another set of diners after we were already seated and had placed our order — no turning back! But luckily my boyfriend had planned ahead and took out money on the way to the restaurant.
Admittedly, a cash-only policy is to be expected at a family-run Italian restaurant (BYOB is pretty much implied by family-run, and even more so by Italian). What's more, it's tiny. The place was crammed with only about 10 tables; however, it didn't feel cramped. It also helped that we grabbed a table near one of the windows. Granted, there were only two other parties in the restaurant when we walked in for our reservation at 6 p.m. While the number of clientele present at one time can be a useful indicator of an eatery's popularity, this is not applicable to Bistro La Baia.
It was difficult choosing an appetizer because any one of them would have been a good choice. They offer grilled calamari; mussels; Caesar salad; and the closest contender, grilled eggplant with goat cheese, roasted peppers and pesto sauce. Fortunately, my boyfriend and I have similar tastes and were able to agree on the funghi gratinati con gamberi. Full disclosure: Everything on the menu is in Italian, but there are helpful descriptions under each dish.
So our starter was baked mushrooms and shrimp with garlic parmigiana cheese and herbs. Honestly, it was one of the best appetizers I've had in quite a while, which is saying something because I eat out too frequently for a college student. I think what made me appreciate it even more was its simplicity; it was a mix of mushrooms, breadcrumbs, cheese and shrimp, but I couldn't get enough of it. The only reason I didn't order another serving of it for dinner was because the entrees were just as tempting — and that would have been downright silly.
It was equally challenging to pick an entree. I knew it would have to be pasta because I feel guilty going to an Italian restaurant and not enjoying the pleasure of handmade pasta, but that didn't narrow things down much. The menu features linguine and clams, homemade ravioli stuffed with lobster, homemade gnocchi (potato pillows of pure joy), and cappellini with a seafood medley. And those are only the pasta platters! Protein dishes include a variety of preparations of salmon, chicken and veal with decadent sauces and accompaniments. In a word, it's overwhelming (but in a good way, of course).
When it came down to it, I ordered the fettuccine pasta in a vodka cream sauce with spicy Italian sausage, and my boyfriend got the risotto in a tomato cream sauce with generous chunks of salmon. Both of us were more than satisfied; however, I don't think you could go wrong with any dish from Bistro La Baia.
We didn't even touch the dessert menu because we were so stuffed — that is, until we passed Shake Shack (an easy walk away at 2000 Sansom St.) and ordered a concrete. But based on the quality of the food at Bistro La Baia, I'm sure the desserts are similarly delicious. I will definitely be going back.