Among the elaborate vocabulary of acollegestudent, one word frequentlyappearsinconversation: broke. There is no questionthatcollegeis expensive. At times it seemslikeablackholeinyour bank account and your wallet. Although frustrating and somewhat sickening to think about, such high expenses of education help students to develop thriftier spending-savvy habits. And so it goes for my excursion to Bistro 7, one of a number of establishments participatinginPhiladelphia's greatly anticipated Restaurant Week.
Nestled in a side street of Old City, Bistro 7 displays the exterior of a color-blocked art studio and interior of an elegant contemporary bistro. Likewise, its menu is no less volatile, catering to the open-minded palettes of classical American with a modern twist. Granted, the menus offered during Restaurant Week are limited compared to their standard counterparts. In fact, critics of the annual event denounce these versions as "watered down" and not representative of the restaurant's capabilities. However, I did not find any shortcomings in the selection at Bistro 7.
Chef and owner Michael O'Halloran remains faithful to the bistro's inventive incorporation of organic ingredients into flavorful, hearty meals. Accordingly, the Restaurant Week menu featured three courses of three or four dishes, and customers chose one item from each group — an appetizer, an entree and a dessert. Needless to say, my accompanying foodie friends and I were more than ecstatic at the array of options, and we were not disappointed by any of our choices.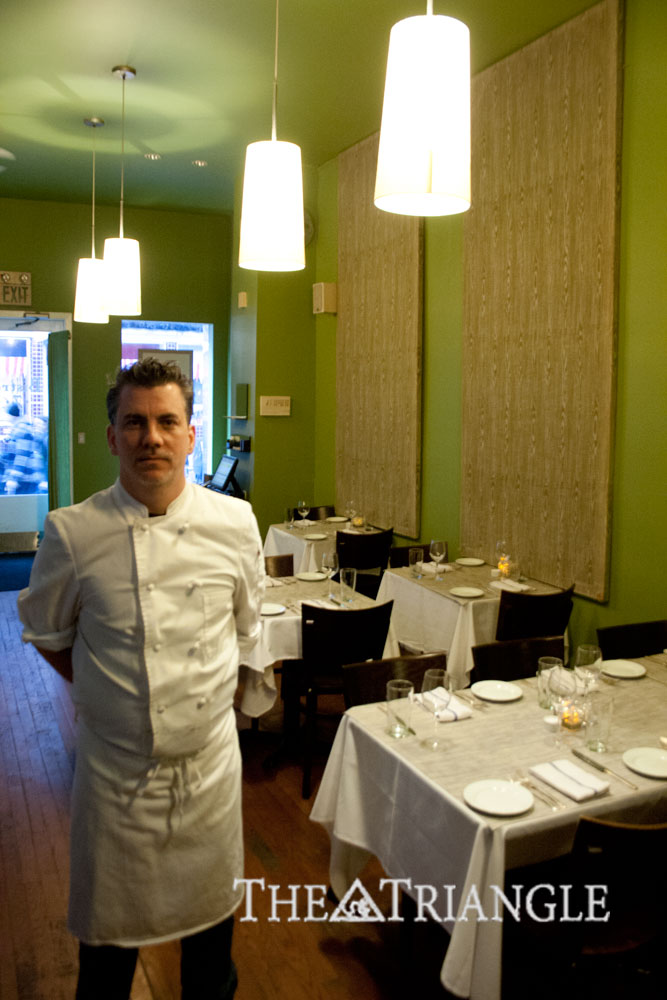 Each of us chose a different dish for the first course (conveniently, there were four of us and four options). Following the waitress's advice, I selected the herb gnocchi topped with sage brown butter and garnished with cider-roasted butternut squash and toasted walnuts. Without a doubt, her recommendation was sound. The other choices were no less delicious: lentil soup, a seasonal salad and duck liver mousse.
Next came the headliner of the night: the main course. Proteins included free-range chicken (my choice), slow-roasted pork belly, trout filet and beef short ribs, which were accompanied by a variety of imaginative sides, including mascarpone polenta, maple-whipped sweet potatoes, ragout and ravioli. In short, Bistro 7 presented the freshness of natural ingredients without any forfeiture of flavor.
That said, the finale was a fireworks display captured on a plate. The warm apple crisp with vanilla whipped cream reminded me of Sunday dinners at my grandmother's — home-cooked heaven. For chocolate lovers, their decadent chocolate mousse was an easy pick. If neither of these options fit your fancy, the quintessence of coconut was available in a coconut rice pudding garnished with toasted coconut and coconut caramel.
Restaurant Week at Bistro 7 was anything but "watered down." For $35 plus tax and tip, we indulged in a positively filling meal representative of the restaurant's usual menu. In fact, Bistro 7 regularly offers a five-course tasting menu for $35 Tuesday through Thursday.
If this whets your appetite, visit Bistro 7 at 7 N. 3rd St.