Have you ever had the urge to eat something out of the ordinary? That longing that emanates from deep within the pit of your stomach, the one that moans and cries out in agony for a delicacy it knows it wants but just can't seem to find? The one that begs not only for sustenance but also a certain degree of pizzazz?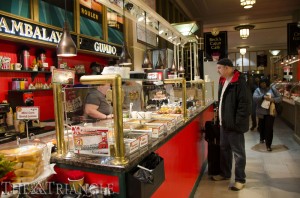 I am, of course, speaking rhetorically. Obviously you've had that feeling. Anyone with a functioning pulse has had that feeling. It's the feeling that drives us to take the subway out into the heart of Center City at odd hours of the night to obtain that one exceptional pizza, that one incomparable cheesesteak, that one special cup of coffee that can placate our raging thirst for cuisine.
We're lucky to be in University City. We're lucky to have all types of food from Mediterranean to just about every type of Asian cuisine, not to mention the American staples and frozen yogurt, no more than a mile or so away from us. But with Beck's Cajun Cafe now at 30th Street Station, we hit the jackpot.
Having operated out of Reading Terminal Market since 2009, Beck's has become exceptionally popular, and justifiably so. They offer a wide selection of Creole cuisine, such as Po Boys and Jambalaya, and it's all authentic. Renowned chef Bill Beck, a Philadelphia native who earned such accolades as being the guest chef at the famous James Beard House and three "Best of Philly" awards, truly loves preparing and serving the best Cajun dishes he can make.  Needless to say, his enthusiasm really shines through. When I met with him, it was obvious that he's incredibly passionate about giving his customers the most authentic Cajun food he can make, not only because he wants the customer to enjoy their meal but also to make sure that the food he serves is true to its roots. He goes as far as importing the shrimp, Community Coffee, Zapp's Chips and alligator (yes, they actually put alligator in a few of their dishes) all the way from Louisiana to make the food as authentic as possible.
This authenticity is clearly visible in the food, too. It's not as though the imported foods are similar to what most people are used to; on the contrary, these colorful foods add a special degree of excitement to the dish. For instance, the Community Coffee that Beck's serves is nothing at all like normal, everyday coffee. Instead of the typical, bitter bite of coffee, this Louisiana blend contains chicory root, giving it a much smoother feel and earthier taste that resolves into just a hint of chocolate after a moment. At first taste I was taken aback, but half a cup later I fell in love with the drink.
In addition to their authenticity, Beck's has real staying power from the quality that extends throughout its menu. While there I sampled the Beignets and the Train Wreck, a Po Boy sandwich paying homage to the Philly cheesesteak. The Beignets were incredible; they resemble doughnuts with powdered sugar on top, but inside lay a vast network of almost imperceptibly gooey dough, almost akin to an extremely thick funnel cake. With each bite I became more and more aware of how often I'll be visiting Beck's in the near future. The Train Wreck was amazing as well, packed full to bursting with a plethora of meats and dripping with a mix of satisfying au jus, the flavor of which most certainly proved the sandwich's faithfulness to the Philly cheesesteak.
It is Beck's new delivery system that really puts the restaurant over the edge. Now, any time you have the desire for Creole cuisine, it's only a phone call away. Its location, within the bustling 30th Street Station, experiences mass commuter traffic and thus is convenient for both University City students as well as frequent travelers. When discussing this new service, the proprietors were excited to finally reach out to the University City area and give students the chance to try some real comfort food.
Overall, Beck's is a shining example of what restaurants should strive to become. I cannot express how obvious it is that at Beck's, the customer comes first and the business follows behind. It was not only refreshing to see the servers talking to customers about their dishes, letting them try the food and getting the customer's opinion of it, but it also showed me just how much Beck's is about serving the best, most authentic Creole cuisine possible and having the most satisfied customers. If there's one thing I can guarantee, it's that you can expect quality, friendly service, and most importantly, a great meal when you go to Beck's. So next time you're in the mood for Cajun, be it at 30th Street Station, Reading Terminal Market or pretty much anywhere else, don't hesitate to try Beck's. You won't be disappointed.
4/5