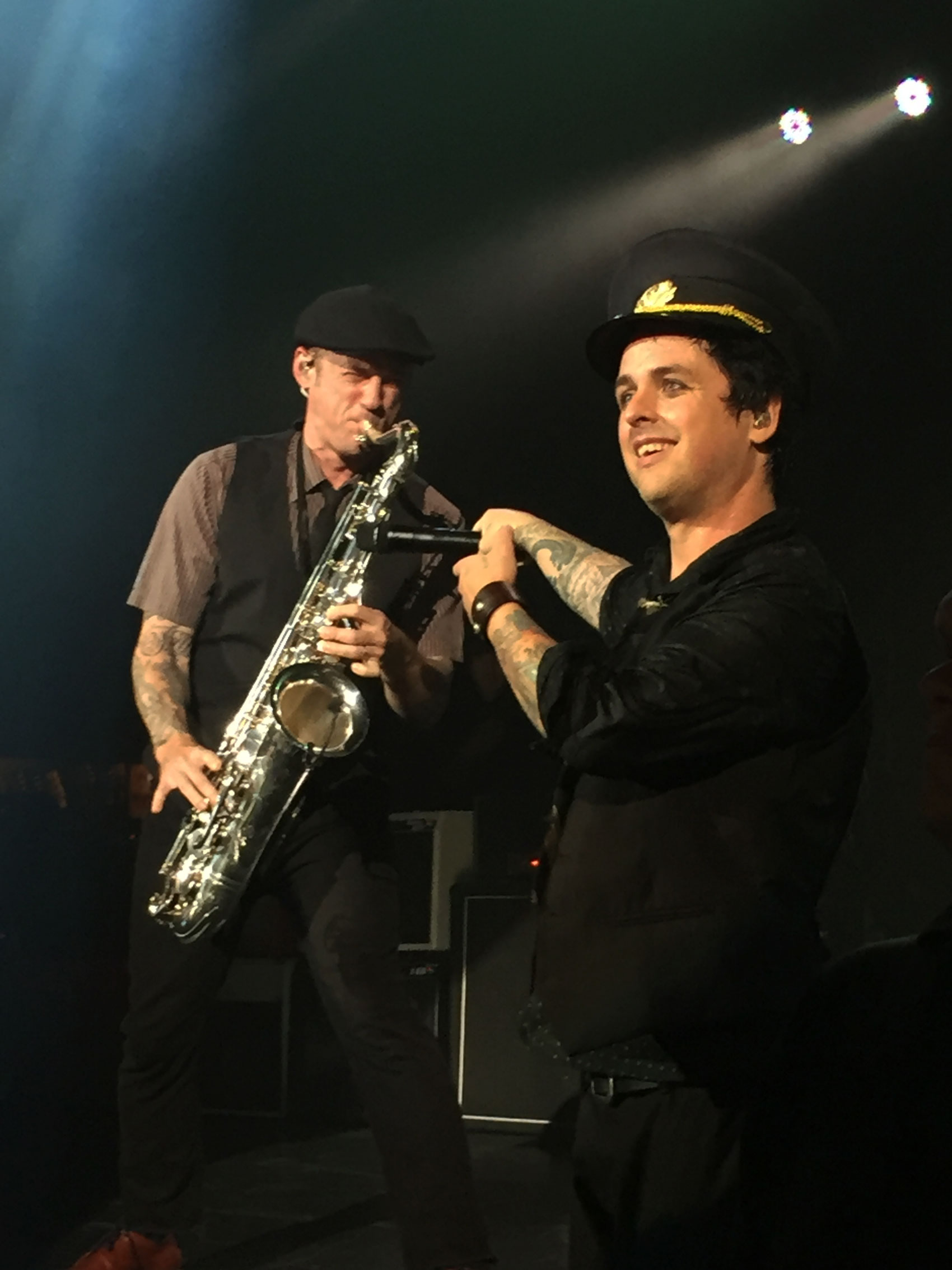 Green Day returned to the greater Philadelphia area Sept. 29 for the first time in over three years to play at the Tower Theater in Upper Darby. Their last visit to the city was Temple University's Liacouras Center in April 2013, when they were promoting their ill-fated album trilogy, "¡Uno!," "¡Dos!" and "¡Tre!." I was at that show too — frontman Billie Joe Armstrong was fresh out of rehab following a catastrophic performance at the 2012 iHeartRadio Music Festival, the album trilogy was a veritable dud in terms of sales and everyone in the audience was wondering what was next for the punk rock veterans. To this day I will contend that they played a good show, but something was off. The atmosphere was tense. Both the band and the audience seemed to be wondering, "Is this how Green Day ends? Not with a bang, but with an underwhelming album trilogy?"
It's a question that, for the last three years, has remained largely unanswered. But last week at the Tower, every fan in the audience breathed a collective sigh of relief.
The five-time Grammy-winning trio jogged onto the stage to the theme song from "The Good, the Bad and the Ugly" and were met with thunderous applause from the pit to the upper balcony. As the clapping subsided, they launched straight into "Bang Bang," the first single for their upcoming album "Revolution Radio." They followed that up with the album's title song, but with the exception of "Still Breathing" and "Ordinary World" (which were played around the end of the show), that was it for the new releases — after that, they transitioned into over two hours of past hits spanning their entire career.
Armstrong is known for pulling audience members on stage to sing portions of songs, and he didn't disappoint. For both "Know Your Enemy" and "Longview," he hand-picked fans from the pit to sing the choruses before launching them off the stage to crowd surf.
As expected, they played a slew of songs from their two most popular albums — "American Idiot" and "Dookie." "Holiday" and "Boulevard of Broken Dreams" were high-energy and effective crowd pleasers, though I preferred the lesser-known "Letterbomb." They were also sure to include "Basket Case," "When I Come Around," "Welcome to Paradise" and several other 1994 hits that skyrocketed them from a garage band to a national sensation all those years ago.
My favorite part of Green Day shows is always when they play the deep tracks, and at times I could have sworn they were catering to me specifically. The inclusion of "Christie Road," a heartfelt anthem of adolescent longing from their sophomore album "Kerplunk," was a wonderful surprise. Armstrong's voice has changed tremendously since the song was first recorded over two decades ago, but the emotion is still palpable in the way he delivers the melody. They also chose to play "Scattered," a rather obscure song off of 1997's "Nimrod" that tugs at your heartstrings with its sentimental nature, and I was thrilled to finally see it live. It's been one of my favorites since I discovered Green Day as a 13-year-old eyeliner and teen-angst enthusiast, and I felt like I had a real (one-sided) moment with Armstrong when he announced it was one of his favorites as well.
"I really have been waiting a long time," Armstrong sighed into the microphone during a beautiful performance of "Waiting" — an optimistic "Warning" single that also graces my favorites list. Was the comment an allusion to the band's recent hardships, maybe the poor sales of the trilogy albums, the cancer diagnosis for touring guitarist Jason White and Armstrong's struggles with sobriety? Was it a reference to Green Day's induction into the Rock and Roll Hall of Fame last year after 25 long years as a band? Or am I reading ridiculously far into a passing comment at a fast-paced show? Believe what you want.
As per tradition, the band played a mashup of "King For a Day" and "Shout," mixing in other covers like "(I Can't Get No) Satisfaction" and "Hey Jude." It was a nice change of pace, as well as a reminder that even as the band moves in a new musical direction they refuse to abandon their past identity.
They ended the set with the ever-rousing "Minority," but quickly came back out to perform four encore pieces. "American Idiot" was a hit with the crowd, but I was more excited when they followed it up with their nine-minute epic "Jesus of Suburbia." Armstrong finished it off with two solo acoustic songs, "Ordinary World" and "Good Riddance (Time of Your Life)." I thought it was a perfect way to leave the crowd, with one brand new song looking towards the future, and one time-proven smash hit honoring the past. I might've reversed the order to leave it on an optimistic note, but I really can't complain. My only criticism is that neglecting to play "Wake Me Up When September Ends" at the very end of September was a little bit of a missed opportunity.
After the disappointing outcome of their last major release, I was unsure of what to expect. When they released three singles from their upcoming album, all of which I loved, I started to feel better — but now, after seeing their performance at the Tower, all my faith is restored. Instead of coming off as hesitant and anxious, they were confident, energized and relaxed, and they allowed those emotions to take root in the audience. To be fair, I've been a Green Day fan for a significant chunk of my life, and I'll admit that I'm inherently biased. Call it misguided loyalty, wishful thinking or even delusional optimism, but I've got a really good feeling about this album. A really, really good feeling.
If you want to argue with me about it, you're going to have to do it after "Revolution Radio" drops, and for better or worse, it's the only thing I'm going to be listening to.