The Arts Administration Graduate Association at Drexel University hosted the 9th annual Art Auction Feb. 17 in the Papadakis Integrated Science Building. In addition to spotlighting the AAGA, the auction raised funds to send graduate students to Arts Advocacy Day in Washington,D.C., where students will personally appeal to senators to maintain funding for the arts despite mounting debt and budget cuts.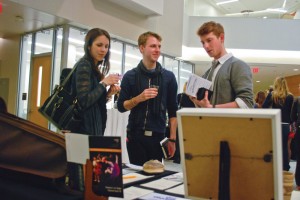 Amy Gibbs, advocacy director for the AAGA, described the importance of the event. In addition to ensuring that the arts remain in the fore in education and are appropriated an adequate amount of funding, she spoke of the huge impact the arts have on Philadelphia's economy. Those attending Arts Advocacy Day will also be fighting to maintain the current tax breaks on charitable donations, a cause that affects the whole nonprofit industry. Gibbs, who attended Arts Advocacy Day last year, described it as "an incredible opportunity for students" as well as "one of the most empowering experiences that I have ever felt."
The auction itself, which had been in the planning stages since June 2011, was executed very well. It featured an extensive and generous selection of donated art, gift packages from a number of prominent local businesses, and other arts and crafts. There was something for everyone to bid on. Whether it be, ceramics, massive paintings or prints based on comic books, the variety was a testament to the diversity of artists willing to support Art Advocacy Day.
The auction also featured an impressive spread of hors d'oeuvres and drinks as well as a tastefully refined pianist-singer duo, making the already rewarding evening extremely entertaining as well.
The attention to detail and variety of art ultimately paid off for the AAGA, which beat expectations by drawing over 200 people and raising over $8,000. It was by all accounts a huge success, providing both a memorable night for all who attended and ensuring that the arts remain funded for years to come.