Mitchell Hurwitz, creator of the Emmy-winning sitcom "Arrested Development," sat down at Drexel's Bossone Research Center on Oct. 21 to talk to students from the Westphal College of Media Arts and Design about his career and the show's success. The writer spent about an hour and a half sharing anecdotes, giving advice and telling insider stories.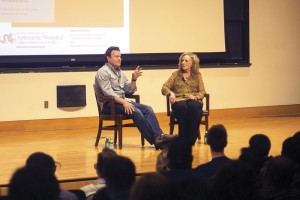 Hurwitz has had a long and incredibly successful career leading up to his crown jewel, originally working as a writer and producer for critically acclaimed shows including "The Golden Girls" and "The John Larroquette Show" during the early to mid-1990s. A sitcom expert, Hurwitz also helped write each of the three different "Golden Girls" spinoffs during that span and helped create Ellen DeGeneres' second sitcom in the early 2000s. In 2002, television producer Ron Howard came to Hurwitz with an idea for a sitcom about a dysfunctional, rich family, which quickly led to the creation of "Arrested Development."
"Arrested Development" stars Jason Bateman as Michael Bluth, the only logical member of an over-the-top family that cannot curb its spending habits. With his father (Jeffrey Tambor) quickly arrested for numerous crimes against the U.S. government, including tax evasion, escaping prison and building homes for Saddam Hussein, Michael has to try to keep his family together under increasingly unbelievable circumstances and stop the Bluth Company from collapsing.
The show was a critical phenomenon upon its premiere in 2003, garnering endless praise from nearly every major publication. In its first season it won three Emmy awards. However, it struggled to garner what Fox believed to be a sustainable fan base. In its first two seasons on Fox, "Arrested Development" averaged six million viewers per episode — Fox's current number one sitcom, "Family Guy," averaged 6.1 million last year. Hurwitz said that Fox silently refused to advertise the show in its second and third seasons, even when Oscar-winning actress Charlize Theron guest-starred in several episodes. Fox aired the final four episodes in one swoop, competing directly with the 2006 Winter Olympics, and subsequently cancelled the series.
"Next week we're starting the Pamela Anderson show," Hurwitz recalled being told by the company right after his show was dropped. Right afterward, he quipped, "It's called 'Stacked,' how can it not work?"
The show was revived by Netflix in 2013 after years of a rumored fourth season. Hurwitz said that a fourth season only happened because of the show's unique situation. He had already been working on the script for an "Arrested Development" movie, when he came into a problem: It became tough to explain what happened to each character over the previous six years while still continuing the movie. "I'm trying to preserve a movie that's 90 minutes, and I've got eight hours of film [in backstory alone]. I think I'm doing this backwards." He explained that he briefly considered doing online webisodes to fill the gap before Netflix came to him with an offer to produce the 15-episode fourth season.
Fan reaction to season four wasn't entirely positive, though. The new season's layout chose to focus each episode on a character, often out of chronological order, leaving the viewer to piece the overall plot together. "I forgot to tell everyone that [season four] was a prequel to the movie. Whoops," a smiling Hurwitz recalled, realizing as the initial backlash poured in. He then made an exciting announcement for fans that were turned off by the newest season's puzzle-like design when he revealed that he was re-editing the entire thing into 22 normal-length episodes, and placing events in the correct order. When asked by a student about a release date on the new-and-improved season four, he replied with a chuckle, "I'll send you a link."
The entire event was filled with this sort of lighthearted air, as the writer discussed future projects and memorable moments and answered student questions. "Arrested Development is the scale by which I judge potential friends," one student claimed during the question and answer segment. A residential assistant claimed that he forced his entire floor to watch the show, to which Hurwitz replied, "Is that how all these college kids keep finding the show?"
The audience was also treated to an extended version of the first half of the pilot episode and got to hear how fan-favorite characters and jokes started. For example, Tobias Funke's mustache was almost cut by a Fox executive who for some reason hated mustaches; Hurwitz and Tobias' actor, David Cross, were so adamant about the mustache that Cross made sure to underperform when the executive asked him to perform without it. Additionally, Hurwitz didn't want Bateman as Michael Bluth at first, and Rainn Wilson (of "The Office" fame) almost got the part of Gob Bluth (Will Arnett).
After the event, Hurwitz stayed at the Bossone Research Center for a reception and talked to the students on a more personal level, actively shaking hands and asking the name of anybody near him. He also took pictures and signed autographs. Freshman student Nicco Piagesi, who had Hurwitz sign his laptop, said he was "shaking" after meeting the creator of his favorite show. "This is probably going to make me rewatch the show another time" he said.
What other advice did Hurwitz have for prospective writers, actors and directors? "It's just applying yourself. It's grit. It's perspiration. It's all those things. It's blasting through the fear that you're not talented."