The annual Philadelphia Horticultural Society Philadelphia Flower Show opened to the public at the Pennsylvania Convention Center Saturday, March 1, and closed March 9.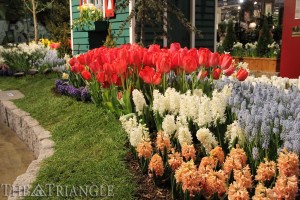 Dating back to 1829, the Philadelphia Flower Show has grown to boast the hefty reputation of the world's largest indoor flower show, featuring the world's premier landscape designers and florists. This year's theme was "ARTiculture," a fusion of art and horticulture that incorporated world cultures and art history. For those readers who have never experienced the Philadelphia Flower Show, each year has a different theme that sets an all-encompassing mood, making each year very different from the last. This year's flower show billed itself as "an explor[ation] of the influence of natural landscapes on the arts [that] will celebrate great horticultural design as an art form in its own right."And that it was. Every detail at the Flower Show was distinctly artistic, from the exuberant entrance garden inspired by the paintings and sculptures of the late Pennsylvania native Alexander Calder, to the homages to other famous artists sprinkled about the convention center floor. At different points throughout the nine-day stretch of the Flower Show, BANDALOOP, a California-based vertical dance troupe, performed gravity-defying acrobatics.
The attention to detail at the Flower Show was incredible; the tight, focused lighting combined with the aroma of freshly cut flowers offered an atmosphere that was unparalleled. The man-hours needed to construct such a show are absolutely unbelievable. Planning for the show begins more than a year in advance, and creation of the show involves more than 3,500 volunteers, thousands of exhibitors, and the entire PHS staff and extended family, according to Alan Jaffe, director of communications for PHS.
This year's Flower Show featured collaborations with a number of museum partners, including both local outlets and museums from across the country. The local museum partners of the Pennsylvania Horticultural Society included: the Philadelphia Museum of Art (in partnership with the National Museum of Korea, Seoul; the Los Angeles County Museum of Art; and the Museum of Fine Arts, Houston), the Barnes Foundation, the Pennsylvania Academy of Fine Arts, the Penn Museum, the Guggenheim Museum, and the Smithsonian Institution's National Portrait Gallery of Washington, D.C. Additionally, special exhibitions at the show included a selection of floral prints by Andy Warhol, selections from the local West Collection of Oaks, Pa., works by local Bucks County sculptor Steve Tobin and local mural mosaic artist Isaiah Zagar.
In addition to the typical awards given out for flowers, this year's Flower Show had a seemingly unusual amount of floral-inspired artwork. There was framed artwork made with pressed flower petals depicting scenic landscapes and arranged into flowers, floral inspired mobiles, floral inspired planters, floral inspired jewelry, brooches and perfume pendants, floral and art inspired dioramas, decked-out streetscapes with window boxes, and artwork that was inspired by flower arrangements. The artwork was displayed on the wall, with the flower arrangements set out a few feet from the wall. This exhibit made for a fascinating flower-cum-art interpretation.  Some of these art installations were honoring famous artists, including Georgia O'Keeffe and Piet Mondrain.
A noteworthy aspect of this year's Flower Show was a new consciousness of environmental impact. Last year's Flower Show saw the addition of a highly energy-efficient LED lighting system, and this year the cognizance was raised. The PHS worked with Green Mountain Energy Company to offset greenhouse gas emissions in an attempt to help balance the event's carbon footprint. Additionally, PHS has pledged to recycle plants and products "whenever possible," stating that props, signs and staging materials are reused, horticultural waste is composted and eco-friendly contractors are sought. Technology was also utilized to minimize paper communications, and through careful planning and recycling of their displays, exhibitors were encouraged to reduce negative impacts on the environment. The difference was noticeable; there were a number of exhibits that used recycled materials to put together their displays by incorporating items such as old bed springs, bicycle wheels, salvaged logs, crushed concrete, beautiful tumbled glass and papercrete.
Attention was also called to related issues such as nature deficit disorder (defined as "a widening gap or disconnect between people and the outdoors, which is resulting in a decrease in physical and emotional health"),and the importance of ecological restoration. Additionally, there was a special exhibit spotlighting biking as an environmentally friendly mode of transportation. In sticking with the theme of ARTiculture, this exhibit featured bike rack designs by local artists.  After being displayed at City Hall, the bike racks will be installed around Center City to enhance the streetscape. Keep an eye out! Additionally, the Philadelphia Water Department presented information about "the art of storm water management," sharing its innovative, comprehensive plan for water infrastructure outlined in their document "Green City, Clean Waters," and sharing information about rain barrels.
As always, there were culinary demonstrations that emphasized "garden to table" food offerings including art-themed specialties, tea-time and themed events including: "LGBT Party," "Wedding Wednesday," and "Girls' Night Out." Also consistent with past years, the Flower Show was filled with a variety of vendors selling flower related goods, including plants, herbs, terrariums, planters, gardening tools, apparel, candles and Flower Show collectables. New this year, PHS introduced an expanded line of PHS "lifestyle products," including new PHS gardening gloves and three new PHS soaps available in honey and oats, milk and freesia, and tea olive scents.
Proceeds from the Flower Show benefit the year-round programs of PHS, including the innovative City Harvest program. For more information visit www.theflowershow.com, or www.PHSonline.org.