Drexel University's music industry program is at it again. Sophomore Anna Greenwald could possibly be the next big thing for Drexel and the entertainment business as a whole.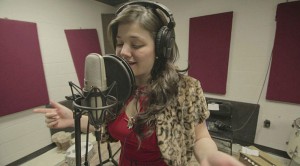 For Greenwald, it all started when she was 10 years old. After a few years of training herself classically, she transferred to a boarding school for performing and visual arts where she studied opera. At this school, Greenwald also learned how to play the guitar and piano. During her freshman year at Drexel, Greenwald met Kosta Johnson through classes in the music industry program.
"Kosta and me [sic] began collaborating on music the spring term of 2012 and had plans to crack down this fall," Greenwald said.
In September 2012 the duo met music industry student and guitarist Jake Fabian through a mutual friend, and they have been playing with him ever since. And to top it off, bassist Mike Morrongiello joined the band this past month.
Since collaborating with Johnson, Fabian and Morrongiello, Greenwald's singer-songwriter tune has transformed into a hard-to-pinpoint fusion of blues, rock, folk and pop inspired by musicians like Regina Spektor, Bonnie Raitt and Sara Bareilles.
The band recently released a cover of "Thrift Shop" by Macklemore on its YouTube page. After their first cover of "Roses" by OutKast barely reached 1,000 views in two months, they weren't expecting much of a response from this video. But to their surprise, the cover received over 10,000 views in less than three weeks. You can expect their next video, a drum-and-bass cover of "Stay" by Rihanna, to be released within the next few weeks.
Overall, despite the amount of attention she and her band have been receiving on YouTube, Greenwald's most exciting moment as a musician has been the collaboration she's been able to experience with the band.
"All of our different musical styles and experiences together have turned my ideas that I record in my room on GarageBand to full, kickass songs," Greenwald said.
In the upcoming months, you can expect to see a lot more from Greenwald and her band.
"We are hoping to start playing around now that our set is ready," Greenwald said. The band is making its first live debut March 15 at the MADKo concert at Flux with Triceratopolis, Spots and Case Closed. You can expect the band to kick off the show with one of Greenwald's favorite songs, "Riverbed Blues."
"Our whole set is really high-energy and fun, but 'Riverbed Blues' has an awesome opening, a rippin' guitar solo and tight harmonies. It's a very interesting mixture of all our musical tastes, and it's a great way to kick off a show," Greenwald said.
During the past few months, the band has also been working hard on its first EP, which is set to be released in mid-April.
For updated information on shows, new music and more, keep an eye on the band's Facebook page.