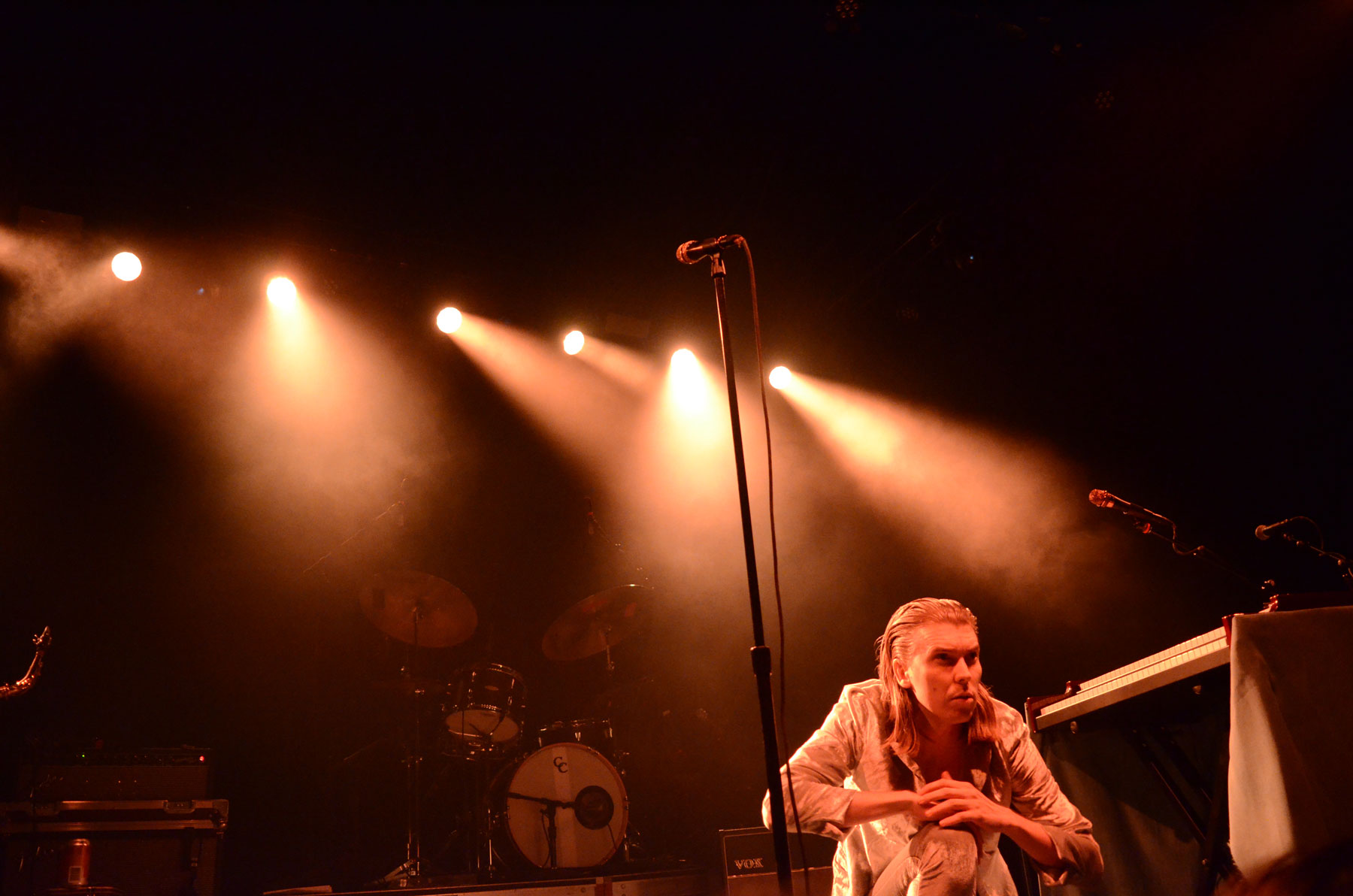 It'd been a little while since I'd last been to Union Transfer (about 10 months!), which is a shame because I really like that venue. I'd even go far as to say it's one of the best clubs in Philly. It was nice that I finally got to return the night of Sept. 14 to see none other than indie rock artists Alex Cameron and Angel Olsen.
Alex Cameron is a new act; he just released his debut album "Jumping the Shark" Aug. 19 through Secretly Canadian. The album, featuring bizarre synth beats and smooth baritone vocals has been received fairly well by critics.
Angel Olsen just released her new album "My Woman" Sept. 2. It's a real good one; I wouldn't be surprised to see it appear on several "Best of 2016" lists at the end of the year. Olsen's subdued yet masterful guitar work and beautiful vocals have made her a beloved member of the indie folk community, as evidenced by the sheer number of young fans who were packed wall-to-wall in Union Transfer that night.
Alex Cameron was the first to play that evening, starting at 8:30 p.m. sharp. He and his "business partner" Roy Molloy (saxophone) were the only two onstage for the entirety of his set. Cameron let backing tracks take care of all the synthetic instrumentation so he could focus on singing and showing off his eccentric dance moves.
He opened with "Mongrel," explaining to the audience afterwards the meaning of the song: he envisions a couple who moves to a rural compound with turrets to defend themselves and "spider pits," which he describes as holes in the ground that you can lay in to hide yourself, and at the end of the song marauders come and kill the woman. The way he told the story was very long-winded and full of detail, catching the audience by surprise.
Cameron is a strange man but definitely entertaining. His long hair was slicked back and he wore a shiny, light blue, velvet suit jacket and pants, which were at least a couple sizes too small. Saxophone player Roy Molloy was donned in a normal black suit. Cameron's deep voice, slightly reminiscent of Matt Berninger's (of The National), contrasted nicely with the smooth alto sax riffs delivered by Molloy.
The two men reminded me a lot of Kevin Smith's infamous stoner duo Jay and Silent Bob, due to their looks (Molloy looked like a cross between Smith and comedian David Brent) and the fact that Molloy sat on a stool and hardly spoke a word the whole time while Cameron engaged the crowd in between every song.
Cameron's set was short but sweet, playing great numbers such as "The Comeback," "Happy Ending" and my personal favorite, "Real Bad Looking." I listened to the album a couple times through before the show, but it never really clicked with me until I heard them live. His songs become more fully realized in a live setting, because the deep, booming synths can be heard more prominently. Also, the addition of a sax solo in the middle of each song made them more enjoyable than the album versions, in my opinion.
Angel Olsen's set couldn't be more different than Cameron's. She had a full band of five backing musicians supporting her, making her folk sound more rich. I didn't know a lot of her songs going into the show, but I was impressed listening to how beautiful they all were. Olsen's voice reminds me at times of Stevie Nicks, and also of indie pop star Mitski.
She played through most of the songs off "My Woman," as well as plenty of songs from her previous albums. She rolled through song after song, stopping only briefly to address the audience every once in awhile. Some of the best songs live were "Not Gonna Kill You," "Intern," "Heart Shaped Face" and "Give It Up."
"Sister," my favorite song on the record by far, ended up falling a bit short live. The song, over seven minutes in length, builds up to an epic climax with guitar solos and crashing cymbals, but the energy just wasn't there for this particular performance. The build-up was pretty weak and the guitar solos were barely audible.
My only other gripe with Olsen's set was that it ran a little long, with not much diversity in sound. Most of her songs sound pretty similar, being soft and reflective, sometimes building to a more energetic climax and other times not. That being said, the songs were all enjoyable to listen to, and the performance from the band was impressively tight.