Headlining his first U.S. tour, singer-songwriter Andy Grammer dropped by Philadelphia's popular go-to venue, the Theater of Living Arts, April 3 to belt out some of his favorite hits.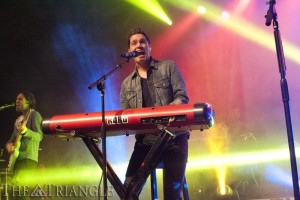 Grammer, who has been traveling from city to city to promote his self-titled debut album, put on an unforgettable show for fans, whom he likes to call "Fandys."
According to the biography posted on his website, the vibrant singer began as a stree performer in Santa Monica, Calif. He knew without a doubt that music would be his career path, never taking success for granted.
"That I even get to play a sold-out show where people know the words and I'm singing about things I'm connected to is such a blessing," he said. "It's the equivalent of a 9-year-old saying, 'I want to be an astronaut when I grow up,' and then getting to go to the moon. This year I've been to the moon, and it's awesome."
Before the 29-year-old musician stepped out onstage, two great acts revved up the crowd. The first was Philly native Anjuli Josephine, who expressed how thankful she was for the opportunity to showcase her talent. Following Anjuli, Parachute, the rising rock band from Virginia whose members happen to be best friends with the headliner, then took it away.
With no expectations from the show upon arrival, I must say I was very impressed with Grammer's 17-song set. Opening with one of his most popular inspirational radio hits, "Keep Your Head Up," the talented performer kept the audience on their tiptoes to see what he was going to do next. "Keep Your Head Up" and "Fine By Me," which are both certified Gold records, put Grammer on the map, making him the first male pop star since John Mayer in 2002 to reach the top 10 in adult pop radio on his first two singles.
Throughout the night, Grammer and his band played a mixture of songs from his latest album, as well as new music and covers. The daring artist shockingly did a great job at putting his own twist on "Ho Hey" by The Lumineers and "Thrift Shop" by Macklemore & Ryan Lewis, intertwining them with his original work and creating several exciting mashups.
Although he performed a few new songs that only loyal Fandys knew the words to, he doesn't have a specific date to release his long-awaited sophomore album simply due to the strain of touring. He wants to familiarize people and gain a wider range of followers before making the next move.
"I've been around the country about four or five times getting everybody to hear [my first album] and be open to it and who I am. I try to write while touring, but it's just really hard. I take songwriting really, really intensely. I take it very serious. So it's really hard to get into something, then have to stop and go do an interview, red carpet, show or meet-and-greet. I can't write on the road. I only get ideas. An album has to wait."
When it all boils down, Grammer said, "I just want to live a meaningful life. I want to write music that has something to it that makes people want to do the same thing."
Grammer, who has performed with musical heavyweights including Taylor Swift, Colbie Caillat, Gavin DeGraw, Train and even Mat Kearney, closed the show on a high note, creating a party scene by performing his own version of "Feel So Close" by Calvin Harris. The only thing missing from the conclusion was confetti.
Grammer will be wrapping up his spring tour in May, with his last performance in sunny Hollywood, Calif.