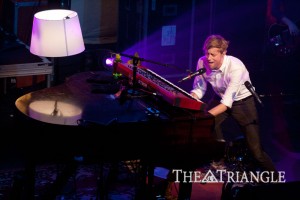 Frontman Andrew McMahon stole the crowd at his sold out show at the TLA. The evening opened with solo artist Allen Stone and Jukebox The Ghost.
In this cold winter season we all need a little something to remind us that warmth and sunshine still exist. Just give Jack's Mannequin a listen for a quick fix as you'll find yourself on a beach in sunny California, soaking up the rays or cruising down the highway with the top down.
Jack's Mannequin performed Feb. 6 to a sold-out crowd at Philly's own Theatre of Living Arts. The concert was in support of the band's third studio album, "People and Things," released Oct. 4 with Sire Records.
The California-native band consists of frontman Andrew McMahon, guitarist Bobby Anderson, bassist Mikey "The Kid" Wagner and drummer Jay McMillan. McMahon, a leukemia survivor, is also the frontman of Something Corporate. Jack's Mannequin released its debut album, "Everything in Transit," in 2005 and "The Glass Passenger" in 2008.
The show opened with Allen Stone, an up-and-coming soul singer, promoting his self-titled album, released Oct. 4. Following Stone was Jukebox the Ghost, consisting of vocalist and pianist Ben Thornewill, vocalist and guitarist Tommy Siegel and drummer Jesse Kristin. The two opening acts were successful at warming up the fast-growing crowd.
Following the opening acts the crowd grew eager with anticipation as the room darkened, lit only by the vintage chandeliers hanging above them and dark blue light bulbs hanging low above the stage. The crowd went from dead silent to cheering at the top of their lungs (I think I was the loudest) as Jack's Mannequin emerged from the fog.
There's something solely unique about McMahon as a performer. Maybe it's his goofy smile or the way he literally walks on his Baldwin piano and jumps around the stage like he doesn't have a care in the world. He's just your average carefree California dreamer who puts his heart and soul into his music.
The band opened up with "Hey Hey Hey [We're All Gonna Die]," a beautiful, heartfelt anthem advocating living in the moment, because hey, we're all going to die someday. The crowd swayed left and right in unison as they yelled the words with McMahon.
What I appreciated about this concert was that they performed an ample amount of songs from all three of their albums. They didn't just concentrate on "People and Things." What came next was "Bloodshot," from "The Glass Passenger." Lights spun around the room thanks to a disco ball and mismatched lamps placed onstage. McMahon also performed "Release Me," "Holiday From Real" and "Television."
Because McMahon has been through a lot emotionally, having been diagnosed with leukemia the day he finished recording "Everything in Transit," he has a special connection to his songs, which is obvious from the passion he shows as he sings. Prior to performing "Swim," he explained to the crowd, "It's a song that got me through a tough time." Passionately gracing his fingers up and down the piano, McMahon sang, "I swim to brighter days despite the absence of sun, choking on salt water. I'm not giving in, I swim." This was one of the most moving sets of the night.
As mentioned before, Jack's Mannequin is the perfect band to listen to when cruising down the highway. McMahon told many stories throughout the concert, and one in particular showed the spontaneity that resides inside him. McMahon explained calling his wife and asking her, "What would you do if I had to drive across this country?" I wouldn't think past him actually doing that. This story inspired "Amelia Jean" from "People and Things," singing, "Drove 84 to the grave of Buddy Holly. I'm out on the sunroof and full of Texas wind. Amelia Jean, is it warm back home in LA? I'll write you when I know where to begin."
McMahon also has an incredible sense of humor, constantly throwing jokes at the crowd and his bandmates, in between taking swigs of some sort of alcoholic beverage, of course. He teased, "I've been trying to win the best-dressed award, but this [expletive] keeps trying to outstage me," referring to Kristin, who was wearing a sports jacket, a button-down shirt and a tie. Oh, you fancy, huh?
Jack's Mannequin had also performed at the TLA Feb. 4. McMahon repeatedly referred to that night but also praised Monday night's crowd, saying, "Tonight feels just as beautiful." I think I blushed.
McMahon continued to perform hits such as "Bruised;" "La La Lie," where he played the harmonica like a pro; "The Mixed Tape" and "The Resolution."
To the crowd's dismay, Jack's Mannequin eventually left the stage. Nobody budged, cheering for a few minutes, hoping they would come back. McMahon ran back onstage to his trusty piano and performed three more songs, ending the night with "Dark Blue." What a perfect ending to a perfect concert.
Kudos to Jack's Mannequin for a blood-pumping, adrenaline-rushing performance. If you haven't seen them in concert, I highly recommend doing so. It truly is the textbook definition of a thrilling experience.