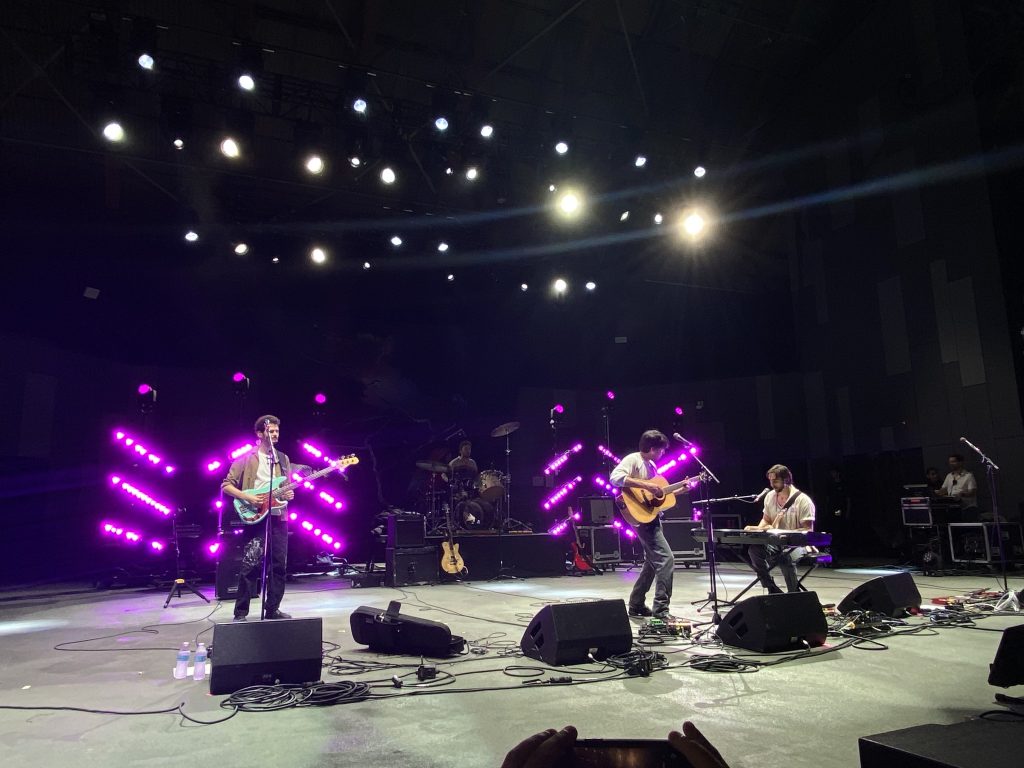 Philadelphia's own Alex G co-headlined the Dell Music Center alongside the Canadian alt-pop band Alvvays on Aug. 26 as part of a seven-show summer tour. The show benefited the Make The World Better (MTWB) foundation, a charity based in Germantown that focuses on public space renovation within the city. As both acts have been active for over a decade, this tour was slated to be a celebration of their indie rock legacy.
The show was opened by Tanukichan, an electronic pop artist who has released a fairly small amount of music since their debut EP in 2016. Their live band consisted of singer, songwriter and bassist Hannah van Loon, drummer Joe Lyle and guitarist Jared Mattson of duo The Mattson 2. Their set was unfortunately cut short due to a smoke machine malfunction during their song "Hunned Bandz." While no announcement was made to the audience, a stagehand approached the confused band and had them exit the stage. However, the audience was able to stay in place while the crew dealt with the smoke.
Following this mishap, Alvvays took the stage at 8 p.m. to perform a set that spanned their three-album catalog with a focus on their most recent album "Blue Rev," released Oct. 2, 2022. Lead singer Molly Rankin's live vocals shone, sounding remarkably similar to the band's recorded work. The large outdoor amphitheater setting treated their dreamy, reverb-drenched style well, as their songs drifted through the evening. Throughout their set, fans milled about the premises in search of food, refreshments, their friends or an open area to chill in while they waited for Alex G.
Alvvays is a five-piece band, featuring Sheridan Riley on drums, Abbey Blackwell on bass, Alec O'Hanley on electric guitar, Kerri MacLellan on keyboards and Rankin on lead vocals and guitar. Each of the band members lent backing vocals at points as well. MacLellan's synth work stood out as it was the glue for many of the songs, giving all the other instruments a textured pad to lay on top of. For the song "Tile By Tile" off of "Blue Rev," the band executed the complicated arrangement to full effect, which was driven by the synth keys. Many fans stood for their classic hits such as "Archie, Marry Me" and "Dreams Tonite," the latter of which featured a live-only synth intro and a standout drum outro.
When the band left the stage at 8:57 p.m., anticipation was heavy in the air for Alex G. It was apparent that most of the audience was predominantly there for him, even though the two co-headliners likely brought a fairly mutual fanbase — hence the idea for their joint tour. Previously known as (Sandy) Alex G, the singer/songwriter made his major label debut on Orchid Tapes with his album "DSU" in 2014, the same year Alvvays debuted with their self-titled album via Polyvinyl Records. Despite Alvvays finding a more lo-fi, dreamy-pop sound in comparison to Alex G's off-kilter, acoustic guitar experiments, the two acts both occupy space under the "indie rock" blanket term.
However, Alex G has witnessed a large uptick in listeners and streams recently due to the viral success of early tracks "Sarah," "Mary" and "Treehouse." After his well-received 2022 album "God Save The Animals," Alex G is currently experiencing his peak popularity so far. On the other hand, Alvvays saw their most prominent popularity with their earlier aforementioned hits, despite also dropping an acclaimed project in 2022.
In the moments leading up to Alex G's set, fans crowded in front of the stage, peeping with excitement and talk of "Alex." At around 9:20 p.m., MTWB played a short video to explain their work around the city. Connor Barwin, founder of MTWB and former Philadelphia Eagles linebacker, took the stage for a brief word on his foundation.
Alex G's band appeared at 9:32 p.m. and began the set with the ominous "God Save The Animals" album cut "S.D.O.S." Alex G switched between electric piano and three different guitars during the performance. The setlist went on to feature nine songs from his newest album, including "Runner," "Mission" and "Ain't It Easy." The main set closed with the album's final two tracks "Miracles" and "Forgive."
The performance was far more theatrical and bombastic than some would imagine if they had only heard Alex G's recent viral hits. Through many songs, one such being "Bug," Alex G sang through vocal effects such as auto-tune or distortion. The setlist went from loud and electric to acoustic guitar based, and his stage had bars of light that cycled through colors. As with Alvvays, the amphitheater setting made his music sound larger and deeper, and the night sky above made the stage lights seem even brighter. Alex G did not speak to the audience much, only stopping briefly to thank the audience and previous bands for coming out.
Later in the show, Alex G played "Sarah" and "Mary" back to back, followed by the classic-rock inspired single "Gretel" from 2019's "House of Sugar" album. The band returned for a four-track encore that capped with "Message" from 2012's "Rules." Prior to the encore, audience members began filing out of the venue. The Dell Music Center, while providing glorious outdoor entertainment, is known for its parking and traffic difficulty.
With their summer tour finished, Tanukichan is set to headline a short fall tour with up-and-coming Indianapolis group Wishy. Alvvays and Alex G will each embark on their own Oceania tours this winter. Check out each act's most recent work, and visit the Dell Music Center's website for more information on their upcoming events.