The long run of awards shows and ceremonies culminated Feb. 24 with the 85th annual Academy Awards, which took place in the customary location, the glamorous Dolby Theater in downtown Los Angeles. This year's Oscars were hosted by Seth MacFarlane, the creator of the television show "Family Guy" and the hit comedy "Ted." The "Music in Film" themed night was filled with speeches, songs and even tears. By the end of the film industry's most prestigious evening, it was Ben Affleck's blockbuster hit "Argo" that came out on top.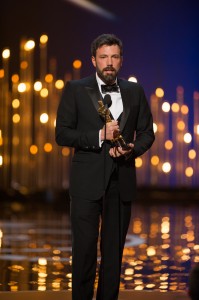 After a healthy amount of red-carpet coverage, MacFarlane got the show underway. There was a lot of talk leading up to the big show as to whether or not MacFarlane would bring the raunchy and crude humor that made him famous to the Oscars. But surprisingly enough, MacFarlane was pretty tame. In his opening monologue he took shots at celebrities such as Chris Brown and Mel Gibson, and he had a bit where William Shatner reprised his role as Captain James T. Kirk from the future to warn MacFarlane that the press will not be pleased with his performance as host. That sketch seemed to drag on for a while, but it allowed MacFarlane to deliver one of the funnier moments of the night, when he sang the song "We Saw Your Boobs." After a few more one-liners and some more showcasing of MacFarlane's strong singing voice, the show finally started giving out some of the famous golden statuettes.
The Best Supporting Actor category was the first of the major categories to be revealed and was arguably the closest Oscar race coming into the night. Dark horse Christoph Waltz of "Django Unchained" pulled out the win over the likes of legends Tommy Lee Jones and Robert De Niro. It was Waltz's second Oscar in the category in as many nominations; he also won for his role in 2009's "Inglourious Basterds."
A highlight of the evening was when Oscar winner and former Bond girl Halle Berry came out to introduce a tribute to "50 Years of James Bond." This was followed by a standout performance by 76-year-old Shirley Bassey, who sang the theme from the famous Bond film "Goldfinger." In a night filled with an almost Grammy-level amount of live performances, Bassey's was one of the best, second only to Adele's rendition of her Oscar-winning song "Skyfall."
After performances by Jennifer Hudson, part of the cast of Best Picture winner "Chicago," and the cast of the Oscar-winning film "Les Miserables," Anne Hathaway was unsurprisingly named Best Supporting Actress for her role as Fantine in "Les Mis." She gave an acceptance speech that many felt was rehearsed and somewhat contrived.
It was about two and a half hours into the show that things really got into gear. Quentin Tarantino pulled off the upset win for Best Original Screenplay over the mildly favored Mark Boal for his screenplay for "Zero Dark Thirty." There was another mild upset when "Life of Pi" director Ang Lee won the Oscar for Best Director over famous "Lincoln" director Steven Spielberg. But the category had already been cast into question when both Affleck and previous Best Director winner Kathryn Bigelow ("Zero Dark Thirty") weren't nominated in the category.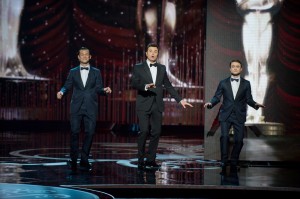 Then it was finally time for the awards everybody had waited almost three hours for: Best Actress, Best Actor and Best Picture. The wonderful and level-headed Jennifer Lawrence won Best Actress for her role as the moody, recovering nymphomaniac widow in "Silver Linings Playbook." Although she tripped on her dress as she walked up the stairs to accept her award, the out-of-breath 22-year-old gave an excited, modest speech in which she even wished fellow Best Actress nominee Emmanuelle Riva a happy birthday.
Next, the great Daniel Day-Lewis won his third Oscar for Best Actor for his remarkable portrayal of President Abraham Lincoln. At almost midnight, Jack Nicholson came out to name the Best Picture winner. Nine films were nominated in this category, and the thriller "Argo" came into the night with a lot of momentum. In a surprising turn of events, First Lady Michelle Obama came on the video screen to reveal the Best Picture winner herself. With much aplomb, Obama named "Argo" the Best Picture. Affleck, executive producers Grant Heslov and George Clooney, as well as most of the cast, came onstage to accept the award. It had been 15 years since Affleck had won an Oscar for Best Original Screenplay with Matt Damon for "Good Will Hunting." The deserving actor-director gave an inspirational and tear-inducing speech, preaching that perseverance is the key to success.