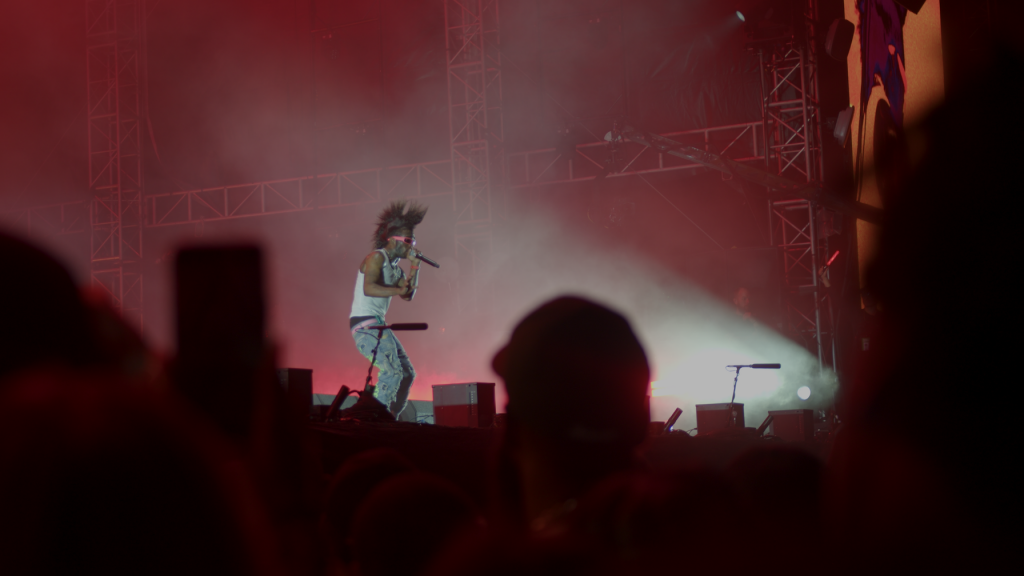 This year marked the tenth annual Made in America festival in Philadelphia, which took place Sept. 3 and Sept. 4. The event was set up on the Benjamin Franklin Parkway with three stages, each featuring their own lineup of artists. With a lineup of over 35 artists, the festival included everything from massive reggaetón pop stars to local Philly rappers.
The biggest stage, named the Rocky Stage, was located in front of the steps to the Philadelphia Museum of Art and featured the headlining acts that rounded out each day's performances along with other popular artists during the day. The Liberty Stage, located on the right of Eakins Oval, was the second largest stage on the grounds and featured the penultimate performances each night before the headlining sets took place. The Freedom Stage was the smallest of the three stages, located at the intersection of Benjamin Franklin St. and N 22nd St. This stage housed the first set of both days at 2 p.m. and wrapped early at 8 p.m.
Day One was a dream for rap fans. 2022 XXL freshman Babyface Ray kicked off the list of rappers which also included Larry June, GloRilla, JID, Pusha T, Flo Milli, Lil Uzi Vert and Tyler, the Creator. The Freedom Stage also featured rising artist JELEEL!, who has become recognizable for his incredible athleticism and backflips during his set as well as his viral hit "DIVE IN!"
Hip-hop affiliated indie act Toro Y Moi also performed at the Liberty Stage on Saturday at 3:45 p.m. Personally, this was the set I anticipated most from the whole festival, as Toro's 2022 album "MAHAL" introduced some of my favorite songs so far this year.
Saturday did not come without any mishaps. Memphis rapper Key Glock was scheduled to take the Rocky Stage at 4:30 p.m., however at 4:55 p.m. a message stating "due to travel delays, Key Glock will no longer be performing today" was shown at the Liberty Stage. This caused a large influx of people to travel instead to the Liberty Stage to see JID, who was scheduled to begin at 5:15 p.m. Coming off of his recent album "The Forever Story," JID's set had an undeniable energy. He performed new tracks such as "Dance Now" and "Raydar."During the song "Stick," he climbed onto a light pole above the fans and turned the crowd into a ferocious mosh.
Similarly, Kodak Black's Liberty Stage set was indefinitely delayed from 6:45 p.m. until a notification was sent through the festival's app at 7:33 p.m. stating that "due to unforeseen circumstances, Kodak Black will no longer be performing today." This left his DJ on stage to flounder for over thirty minutes, despite teasing earlier that the Florida rapper was indeed "in the building." According to the Made in America app's schedule-building feature, Black's set was the fourth most added set out of the whole festival with 4740 people having scheduled it after the two days. The rapper has been "Back for Everything" in 2022, except for Made in America.
The final three acts of Day One were Jazmine Sullivan on the Rocky Stage, Lil Uzi Vert on the Liberty Stage and Tyler, the Creator on the Rocky Stage. Sullivan has been an underrated presence in R&B since back in 2008, but after the 2021 project "Heaux Tales" she has seen another wind in her career as a mainstream artist after many co-writing credits.
During the later half of his set, Tyler, the Creator announced that his Made in America appearance would be the last of his "Call Me If You Get Lost" themed setlists. He had been touring this album since Feb. 10, 2022, and the performances had included selections from his projects "Call Me If You Get Lost," "IGOR," "Flower Boy" and various older tracks such as "IFHY," "She" and "Tamale."
Despite not being the headliner, Lil Uzi Vert had the standout performance of the night in their hometown of Philadelphia. Following the release of their eight-track EP "RED & WHITE" on July 26, 2022, Uzi began their set with "GLOCK IN MY PURSE" complete with a huge mohawk and pink sneakers. Their lyrics claiming that they "wasn't from this Earth" seemed believable as they performed songs like "Do What I Want," "That's a Rack," "POP" and "444+222."
Also featured throughout both days of the festival were countless food trucks, a ferris wheel, various booths from foundations in the Cause Village and multiple sponsored tents for brands such as Puma, HUD and Shein. At the Puma tent, you could customize new pairs of sneakers as well as pick up Puma tote bags. The festival's merch was created in collaboration with the brand Paper Planes, which can be found in boutique retail stores in Philadelphia such as Lapstone and Hammer. Headliners Bad Bunny and Tyler, The Creator had merchandise available as well.
Sunday's lineup of artists featured many international acts at the Liberty Stage, including Chimbala, Fuerza Regida, Rels B and Burna Boy. This diverse day all led up to a headlining performance by Bad Bunny at the Rocky Stage starting at 9:30 p.m. During the day, the Rocky Stage also featured reggaetón star Ryan Castro at 5:45 p.m.
Over on the Freedom Stage at 3:00 p.m., Philadelphia rapper KUR returned to the festival for a third time to perform to a loyal audience. He performed songs off his newest project "Loyal To A Fault" along with classics that had the fans reciting lyrics. After his set, KUR stated "The love was there the first few times but this felt like, super different. I got a chance to interact with my fans, take pictures with all of them, make everybody's day." He also added that a deluxe version of the new album is on the way that contains multiple featured artists.
Popular singers Tate McRae and Snoh Aalegra performed later in the day at the Rocky and Liberty Stages respectively. Dreamville affiliate Kenny Mason hit the Freedom Stage at 6:45 p.m. and threw a party for the rowdy, mosh-pit hungry festival goers. Mason reprised the song "Stick" which JID had performed during Day One since he had featured on the track as well, cementing the song as a new mosh-pit staple.
Following Mason at the Freedom Stage was Young Nudy, who performed from 7:30 p.m. until around 8:15 p.m. Fans were anticipating this set, as chants for Nudy broke out before he appeared. His personal lack of energy was slightly disappointing, making the DJ and the hype man compensate. However fans were still treated to live performances of "Hell Shell," "EA" and the famous "Pissy Pamper/Kid Cudi" leak.
Don Toliver performed on the Rocky Stage at 7:30 p.m. followed by Burna Boy on the Liberty Stage at 8:30 p.m. Both acts exemplified how popular they had recently become by drawing massive crowds as the night built up to Bad Bunny's appearance.
At 9:30 p.m. Bad Bunny took the Rocky Stage all by himself, sitting on a small sandy island set in a beach chair with a cooler beside him. From there, he performed numerous hits including tracks off his wildly successful 2022 album "Un Verano Sin Ti." The performance was bright with color and Bad Bunny's otherworldly charisma commanded all present at the festival to dance, whether they knew the words to the songs or not.
Made in America 2022 wrapped Sunday night after two beautifully sunny days, a very common occurrence for this summer in Philadelphia. As someone who had attended festivals before the pandemic began, I can happily say that I returned from my first COVID-19 era festival testing negative, which was a worry I had prior to engulfing myself in people once more. With many notable performances and a safe execution, Made in America 2022 was a joy to attend on both days.