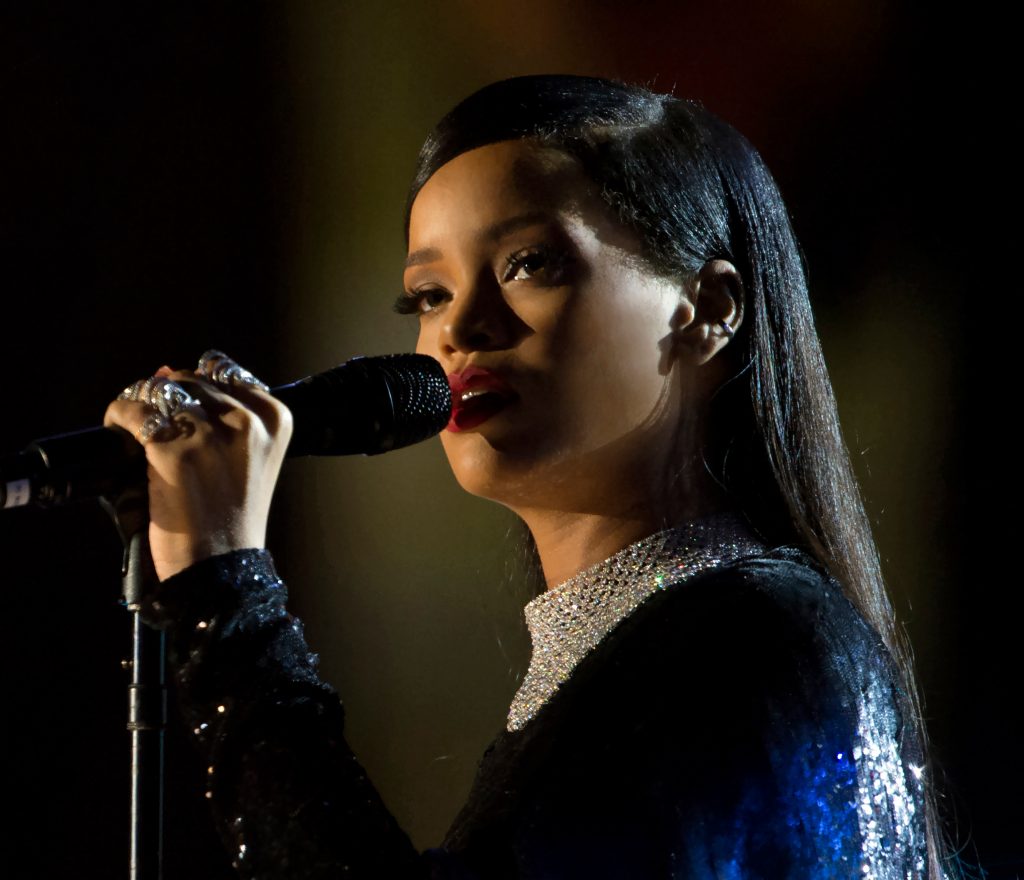 "Don't act like you forgot!" She calls the shots. Rihanna's back! 119 million people watched in awe as a figure clad in red with a whole lot of swag rose 60 feet into the air on a seemingly invisible platform. It has been six years and fifteen days since her most recent album "Anti" was released, and even with her Black Panther soundtrack single "Lift Me Up" in late 2022 the hype for Rihanna's music is enormous.
Starting with her hit song "Bitch Better Have My Money," Rihanna, along with her puffy marshmallow dancers following her every move, got the crowd on their feet in anticipation for the rest of her performance. With so many hit songs to choose from, we are confident that she made the right choice with the opener.
The singer's clothing was designed by luxury fashion house Loewe, and featured red and pink high-top Salomon x Maison Margiela shoes. As a shoe brand prominently based around outdoor sneakers, this moment along with the collaboration was a large co-sign for Salomon. Her outfit was built specifically to accommodate her second pregnancy with rapper A$AP Rocky which she hinted at during the performance and was confirmed by her representatives a few minutes after the performance.
Dancing her way into "Where Have You Been" and "Only Girl (In the World)," the platforms ascended and descended in speed and unison, creating beautiful formations that left us hanging on the edge of our seats.
Following an extravagant firework display, the audience screamed in excitement after hearing the opening notes of "We Found Love." This Grammy winning throwback topped the charts in 2011, insinuating major worldwide success. It topped the US Billboard Hot 100 for ten non-consecutive weeks, becoming the longest running number-one single of 2011. It was Rihanna's 11th song to top the Hot 100, placing her in third place among female recording artists amassing the most number one singles. It was during the dance break that people watching were hit with nostalgia as they realized how much had truly missed the singer over her six-year music hiatus.
Then it was time for "Rude Boy" and "Work," which spawned the accompanying dance that was played on loop for days on every social media platform in America. A lone figure, lip-syncing to the "Rude Boy" and "Work" remixes while white clad figures behind them transition between isolated movements to amazing synchronization: furiously moving arms and legs to slow, intentional body rolls. Covers, challenges, and parodies—you name it, it happened in the days following the Super Bowl. The perfectly synchronized movements with a hip-hop flair were bound to go viral.
Transitioning into "Wild Thoughts" and "Pour It Up" served as a balance between the energetic pop radio hits of previous songs. This flip-flop once again demonstrated Rihanna's range and reminded her audience that she can, and will, do it all. It was during these calmer moments that we could stop and think about the significance that this performance held for her career. Going from years of musical inactivity to performing on one of the world's biggest stages, this Super Bowl performance was, as Rihanna candidly put, an "exhilarating challenge" and something that she wanted her son to see.
Next performing one of the more controversial songs of the show, "All of the Lights" by Ye (formerly known as Kanye West), Rihanna flexed her $2.8 billion beauty brand Fenty as the stage lights around her flickered in bewildering patterns and dancers contorted their bodies.
It is fitting that Rihanna chose to sing "Run This Town," because, at that moment, Rihanna did run the stage and the night. For the past few years, Fenty Beauty has hugely impacted the makeup industry and she again "runs" the show for inclusive and high quality products. People will be surprised to hear that Rihanna was not actually paid for her performance (as one might expect for a world class star). Instead, her promo came in the form of Fenty Beauty, which garnered $5.6 million in sales, and her lingerie line Savage x Fenty, which earned another $2.6 million following the Super Bowl..
Another firework signaled the closing of her performance — time for "Umbrella." It was this song especially that Rihanna delivered with power and conviction, the same style that made us fall in love with the song back in 2007. Entertainment Weekly ranked the song number one on the 10 Best Singles of 2007, while Rolling Stone and Time listed the song at number three on the 100 Best Songs of 2007. Umbrella has won two MTV Video Music awards and was also nominated for Record of the Year and Song of the Year in 2008. The song earned Rihanna and Jay-Z a Grammy for Best Rap/Sung Collaboration and is still a fan favorite today. In fact, Umbrella has just re-entered the Billboard Hot 100 at #37 over a decade later!
To close her concert, Rihanna ended with a beautiful ballad rendition of "Diamonds," another award-winning single. It was at this moment, when the stage lights were off and dancers absent from the field, that all eyes turned to stare at the figure clad in red rising higher and higher into the black and silver sky. Flashlights, the diamonds of the night, turned on in waves as Rihanna belted what was arguably, the best musical moment of the night. With fireworks going off around her, she finished off with a flourish, stopping to absorb the deafening roar of the crowd around her. It's safe to say that Rihanna made her comeback and we're totally here for it.