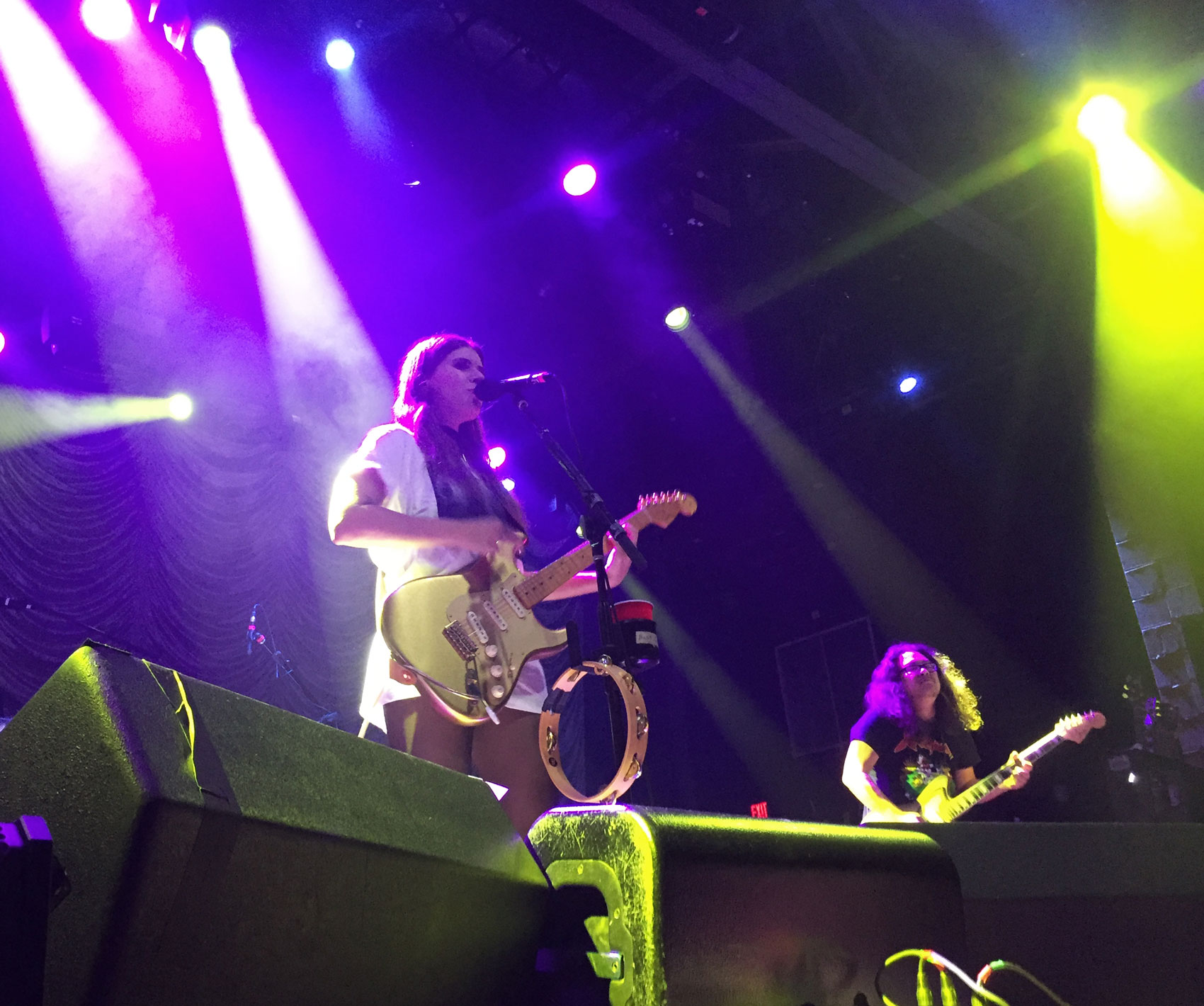 I knew it was going to be a fun night Aug. 11 at the Fillmore Philadelphia when I saw the announcement for the Go Go's Farewell Tour, alongside Californian indie band Best Coast. I've been jonesing to see Best Coast again since I saw them open for Green Day at Temple's Liacouras Center in 2013, so of course I jumped on the opportunity to go to this concert. And who doesn't love a little Go Go's, am I right?
I expected to see a bunch of young music fans like me at the concert, but nope, it was mostly moms. The opener, Kaya Stewart, had a surprisingly great performance. One of the chattier ladies around me informed me after her set that she is in fact the daughter of David A. Stewart from Eurythmics. Her voice was great and the backing band was on point, playing high-energy pop music that even managed to get the crowd dancing a little bit. Her songs are catchy too! I recommend you give her a listen on Spotify if you're looking for some new pop music.
Best Coast took the stage next, to the apparent excitement of several fans scattered throughout the venue, myself included. I've got to hand it to the people responsible for organizing this tour — the lineup was pretty flawless. Each band matched the vibe of Best Coast's female-fronted pop rock. Best Coast did a great job filling the room with their chilled-out beachy punk vibes. It was nothing short of a pure delight to hear songs like "Feeling Ok," "California Nights" and "In My Eyes," all off their stellar 2015 album "California Nights."
I think it's hard to replicate the sound that Best Coast manages to capture in their studio recordings, and the live performances definitely feel a bit different. That's not to say that the performance was bad; it was still very good. Their studio work just sounds airy and light, but in concert their punk roots come through a bit more and the songs sound somewhat heavier. Nonetheless, they put on a very enjoyable show and by the end of their set, the audience was bubbling with excitement for the Go Go's.
The Go Go's, now midway through their Farewell Tour, are touring with four out of the five members of their original lineup: the wonderful Belinda Carlisle, Jane Wiedlin, Gina Schock and Charlotte Caffey. When they all walked onto the stage, everyone in the audience exploded with excitement. There was a palpable feeling of pure joy in the audience throughout their whole set — of thousands of people reliving their youth. It was pretty awesome.
They banged through all the hits and more. Some of the more memorable numbers were "Our Lips Are Sealed," "Vacation," "We Got the Beat," "How Much More" and "This Town." The whole room was dancing and singing along to every song. It was a lot of fun, even for the songs I didn't really recognize. For their encore, they performed a cover of Miley Cyrus's "Wrecking Ball" and the wonderful Go Go's classic hit, "Head Over Heels." I left the Fillmore that night feeling delighted and satisfied.