Legends never die, especially a legend like Ron Burgundy. We were first introduced to this iconic character in 2004's "Anchorman: The Legend of Ron Burgundy."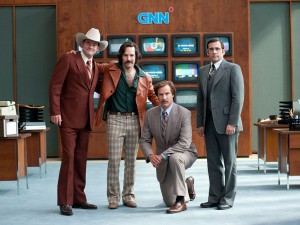 As San Diego's top-rated anchorman in the 1970s, Burgundy had it all: a celebrity-level reputation, adoring women, scotch, his pooch Baxter and a beautifully trimmed coiffure, not to mention his loyal news team. Alongside lead field reporter Brian Fantana (Paul Rudd), sportscaster "Champ" Kind (David Koechner) and chief meteorologist Brick Tamland (Steve Carell), Burgundy (Will Ferrell) was in his prime. Then came along Veronica Corningstone (Christina Applegate), who challenged the male-dominated work environment as an aspiring newswoman and, eventually, Burgundy's co-anchor.
The rest is history; or so it now seems, nearly 10 years later, with the imminent release of "Anchorman 2: The Legend Continues." As the name suggests, Burgundy and crew are back and readier than ever as they take on the nation's first 24-hour news channel.
Unfortunately, that's about all we are allowed to know; the entire production has been conducted in a very close-lipped, secretive manner. From a journalistic perspective, this is considerably aggravating — actually, it's annoying for any fan of the franchise. That said, in typical Burgundy fashion, it will make the film's debut even better.
For those of you reading now, though, you're in luck. Carell and Rudd participated in a college conference call Nov. 1 and revealed a few minor but exciting details about the film.
The actors are just as candidly funny in real life as their characters. It was instantly clear that the two are good friends off-screen as well, which is not entirely surprising because they've appeared in other movies together, including "The 40-Year-Old Virgin" and "Dinner for Schmucks." It made for an extremely entertaining question-and-answer session, to say the least.
The moderator of the call pointed out that not all participants on the call would have a chance to ask a question; luckily enough, I was one of the few who was able to speak. As a disclosure, I thought my question was solid. Now, I'm not so sure. You can be the judge!
To start, neither actor knew where Drexel University was, but that was cleared up. Then I posed my question: "There's a lot of buzz about some big-name cameos appearing in this movie, such as Kanye [West], Drake, and Sacha Baron Cohen. How do you go about recruiting people for this?"
"Well, we didn't because we're just the actors," Carell said. He continued to explain that Ferrell and the movie's director and writer, Adam McKay, handled this part of the process. If anything, it appears that people called them to be part of the film simply because of the appeal of the first one. As Carell put it, "[P]eople just wanted to be a part of the silliness." Rudd added, "I also think a lot of people like Adam and Will, too. … I feel lucky enough to be in their orbit."
This collective response was satisfying, but there was more.
"All of those people that you said are actually not in the movie," Carell said. I needed to save face — particularly my flushed, frantic face. A number of articles have speculated countless celebrity cameos in the "Anchorman" sequel, such as Amy Poehler, Tina Fey and Jim Carrey, and the ones I listed seemed to be confirmed with photographs and sightings on set. Plus, as I mentioned earlier, it appears that the cast and crew are attempting to keep as much of the movie as possible under wraps.
So, my follow-up question: "Are you lying, or is that true?"
Carell's answer: "I don't know. Am I?" "Yes, you just have to see it," Rudd said. Okay, fair enough.
While my speaking time with them was not especially informative, other participants were able to get a little more out of the actors. There were a few personal questions, including where on a naked body they would prefer to eat sushi from first (by far the most private inquiry, although Carell answered with McDonald's because he doesn't like sushi).
In terms of "Anchorman 2," they explained that the cast was thrilled to revisit the story because it was such a pleasure to do the first time around. "Even if there was no film [or] any camera, we would have come back and done it because it's so much fun," Carell said. In fact, they approached the sequel with the same "indie" spirit they had for the first installment even while knowing, as Rudd put it, "there were more eyes on [them]." All in all, the improvised quirkiness of the original tongue-in-cheek comedy is a guarantee.
Although the pitch for an "Anchorman" musical was a bust, the cinematic "Anchorman 2" is sure to deliver, or so it sounds from the tidbits of information they're giving away. As Rudd said, we'll just have to wait and see.
"Anchorman 2" premieres in theaters Dec. 20.