Back in high school, most of us dreaded English literature classes in which the teacher would rant about Shakespeare and his idealistic views. We would stare at the clock, waiting for the seconds to go by. We never really understood anything now, did we? It was just the way Shakespeare was taught to us that made it so boring and inaccessible. Well, we do not have to go through that anymore! Because guess what? The Drexel Players kick off their 2011-12 season on Nov. 17 with a wacky and fun-filled version of Shakespeare's comedy "The Twelfth Night."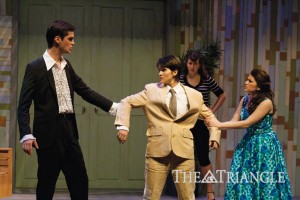 Drexel's version of "12th Nite" is adapted and directed by Nick Anselmo, director of Drexel's theater program and the Mandell Professionals in Residence Project. This contemporary production is humorous and funky. Not only does it revolve around a beach party theme, but Anselmo and the cast also throw in a few foot-tapping songs, largely influenced by the popular television show "Glee." A singer, dancer and actor, Anselmo came from Chicago to Philadelphia four years ago to teach at Drexel. He explained that the general theme of this production is about true love and mistaken identity. The underlying message, however, intends to strongly encourage young women to make their way into the world. Anselmo believes that women should be allowed to take control of their own destiny. The production caters to college-aged women in particular, as it is performed in a language that is understood by us. "They get a kick out of it," Anselmo said. He further added, with much happiness, that the actors fitted into the roles flawlessly.
Laurel Hostak, who plays the leading role of Viola in "12th Nite," said: "This is my favorite Shakespeare comedy. It was challenging but at the same time fun to find the moments you could connect to emotionally and moments that are really laugh-out-loud funny."
The costumes suit the beach theme perfectly, as we can see Olivia in pretty summery dresses and Sir Toby in beach shorts! The sound design, prop design and lighting just add to the essence of the performance. It is common to sit through a three-hour Shakespeare play and leave having understood very little, but not this time around. The fluidity, visible emotion, physical action and confidence of our Drexel students is impeccable.
"12th Nite" plays at the Mandell Theater (33rd and Chestnut streets) from Nov. 17 to Nov. 20. The show is 90 minutes long. Showtimes are Thursday, Friday and Saturday at 8 p.m., Friday at 10 a.m. and Sunday at 2 p.m. The Friday morning show will be followed by a talk-back with the cast. Tickets are for $15 for the general public and $5 for students, faculty and professional staff with a Drexel ID. For more information, visit www.drexelplayers.com.
I highly recommend taking the time from your busy schedules to come watch the hilarious and entertaining "12th Nite." It's a great stress buster, and I guarantee you won't stop laughing!