Music lovers hit the streets of Northern Liberties Jan. 28 to witness the second annual Radio 104.5 Winter Jam at the Piazza. This free outdoor concert brought the people of Philadelphia together to share the music they love in continuation of the city's rich musical culture — but with a modern twist. Three bands made their mark on the Winter Jam stage. The performances of Rivers Monroe, Fun and New Found Glory made for an unforgettable experience as their fans in Philly showed the bands that their base stands strong and proud.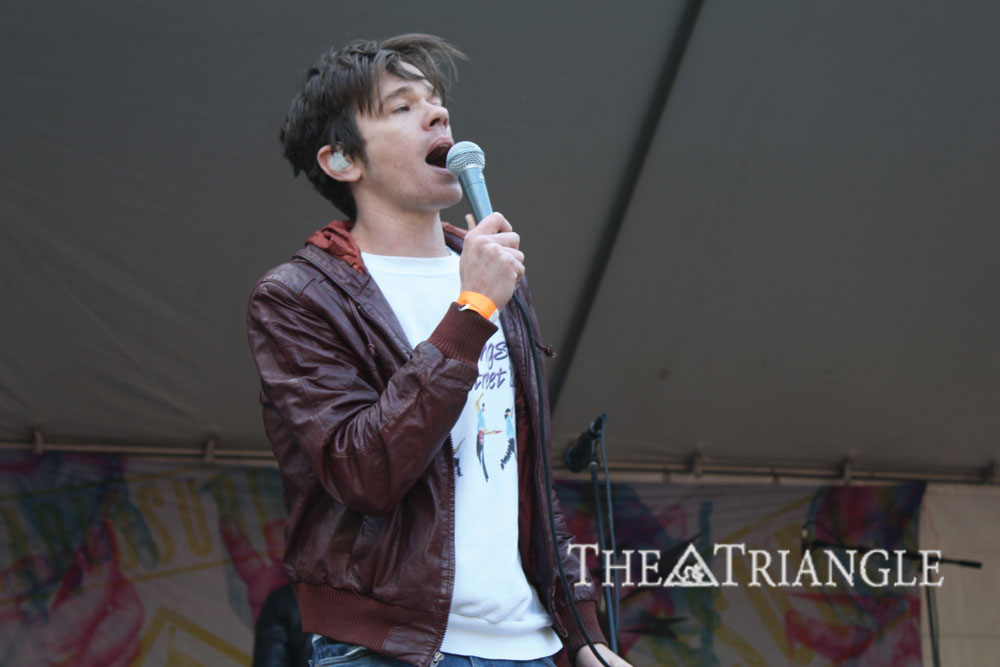 Starting off the lineup, Rivers Monroe brought new life to the stage. This Philadelphia-based band, named after lead singer Mike Rivers and keyboardist/vocalist Mat Monroe, got the crowd pumped up with its peppy tones. Their first full-length album, "Meteors," is filled with highly marketable radio pop that is, to put it simply, fun to listen to. After this lively opener, the crowd was ready for the headlining acts.
Though perhaps known to many only for their recent single "We Are Young," featuring Janelle Monae, indie royalty Fun definitely brought pizzazz to the stage. Fun welcomed back many longtime fans, performing songs from their debut album, "Aim and Ignite," and also invited a whole new crowd of listeners by performing select songs from their sophomore album, "Some Nights," set to release Feb. 21. If the premier single "We Are Young" has anything to show for it, this new album is going to be as phenomenal as the last and will satisfy old and new fans alike. We can predict with certainty a new wave of fame for this once-small band.
We had the honor of conducting an exclusive interview with Fun's Andrew Dost. In support of satisfying the whole fan base, he says that "Some Nights" is "a leap forward for [them] while still hanging onto some of the stuff that people who liked the last record" will like about their new album. For the new album, Fun displays its instrumental skill in collaboration with hip-hop producers Jeff Bhasker, Emile Haynie, Andrew Dost, Jack Antonoff and Nate Ruess. With his distinctive and powerful lead vocals, Dost not only put on an impressive live show but will showcase their talents in an ingenious new album.
The crowd grew larger as it got closer to New Found Glory's set time, and it became clear just how much of the audience came primarily for them when the crowd surged as the band stepped onstage. The pop punkers opened their set with the 2004 hit single "All Downhill From Here" and continued with material from their most recent album, "Radiosurgery," released in October 2011, and more fan favorites like "Ballad for the Lost Romantics." Not a single band member failed to disappoint. Each musician looked livelier than the next, jumping around the stage in time to the music and having the time of their lives. Guitarist Chad Gilbert even set down his guitar to hop over the photo pit and into the crowd. They definitely proved that they still have what it takes to put on a great show despite continuous recording and touring since 1997.
All in all, Winter Jam 2012 proved to be more than successful and an exciting way to spend a winter afternoon in Philly. Even though the inclement weather in the days preceding forced a cancellation of the snowboarding and other winter sports activities, the crowd's energy and enthusiasm suggested that the free music was more than able to suffice for the loss. As Radio 104.5's Winter Jam continues its annual tradition, Philly music fans will continue to celebrate the music they love and even raise awareness of new music discovery that will keep the music industry alive.