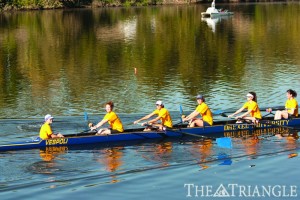 The Drexel women's crew varsity eight boat, pictured above, is one of many premiere athletic teams at Drexel. The men's and women's crew program as a whole has outperformed competitors consistently over the past three seasons, including their stronghold on the local, yet renowned, Dad Vail Regatta.
ADDITIONAL REPORTING BY JULIA FISHER — ASST. SPORTS EDITOR
So, college — not too sure what to expect, right?
Well, read on and you shall find yourself enlightened at the culmination of this ever-so informative piece.
Your college experience will begin as follows: you will make your way onto campus via some sort of transportation, most likely mom and dad's family car. Next they will move you in, embarrass you a bit in front of your soon-to-be close friends, and after a few laps around campus and a fully stocked mini-fridge, they will eventually leave you on your own as you begin your journey at your new institution. Now, obviously the point of coming to Drexel is for you to get an education and leave as a distinguished graduate, but there is no reason you can't have fun while you're here.
We are here to help and guide you in that regard. The following is our extremely opinionated guide to our very own Drexel athletics.
First things first, we see that you have noticed a gaping flaw in our fine institutions athletics program: where's the football? Well the easiest way to put it is that we have been undefeated since 1973, back when we were Drexel Tech.
No worries though, as there are many other fine athletic competitions you can attend.
In the fall, we suggest attending a field hockey game. Now we know that doesn't come off as sounding as thrilling as a Notre Dame football game, but here at Drexel we love our field hockey, especially the recently graduated two-time Colonial Athletic Association Player of the Year, Christina Mastropaolo. The Dragons have finished the season ranked inside the nation's Top 20 each of the past three seasons, including their exciting trip to the elite eight of the NCAA tournament two seasons ago, when they finished the season ranked tenth.
We also suggest attending a men's or women's soccer game. Both programs are filled with budding stars waiting to break out and have a big season. Other fall sports to choose from are golf, tennis, crew and squash. Crew and squash specifically should catch your eye because crew has absolutely dominated in NCAA competition for the last two years and is bound to do so once again, including one of the largest races in the nation right here on the Schuylkill. As for squash, this will be the program's first year of Division I competition, while Drexel itself will also play host to the 2011 U.S. Open Squash Championships.
In the winter comes Dragon fans' slam dunk attraction, men's and women's basketball. One thing every student should do before graduation is travel to neighboring UPenn for a Drexel-UPenn basketball game, because there is no atmosphere better than the one at the Palestra as the Dragons run up and down the court against the Quakers. Also, after one of the largest wins in school history over Louisville in Kentucky last year, the Dragons are poised to make a postseason run this year, so you want to make sure you go to as many games as you can. With an extremely young and talented roster, Dragons everywhere are crossing their fingers for a trip to the Big Dance for the first time since Malik Rose took them there in 1996.
But hey, the women are no slouches either, with their most recent NCAA tournament invite coming in the 2008-09 season. The Dragons have finished in the top five in the CAA the last four seasons, competing in postseason play in two of them as well. Kamile Nacickaite will be a player to look out for as she hopes to lead her team to the postseason. Women's basketball is another can't-miss sporting event this winter.
Also, for basketball in general, students MUST make sure they attend at least one home game against Delaware University – now that is a true college rivalry. Regardless of whether or not the Blue Hens are visiting, the DAC Pack will always represent our university with pride and enthusiasm. You will be able to spot the blue and gold from miles away — not to mention you will certainly be able to hear them cheering on our Dragons and booing any opposing team.
Also on our list of winter sports are  wrestling, swimming and diving. The wrestling team is heading into its first season of the post-Jack Childs era, the winning coach in NCAA history, and will be leaning on third-year star captain Joe Booth, the only member of the program to wrestle in the NCAA tournament that took place at the Wells Fargo Center in March.
You can also take a splash into the swimming and diving program. These aquatic mavens have a handful of young up-and-comers that are sure to make their marks on CAA and NCAA competition. I mean come on, who doesn't want to go to a pool in the middle of winter? It will amp you up, and get you ready for the spring.
In the spring there is another program that has been lauded by Drexel fans of late, and that is the men's lacrosse team. They have earned berths into the CAA tournament five years in a row and have been ranked among the top teams in the nation consistently over the last few years. Their most powerful win in recent memory was an overtime victory at home against Notre Dame, a perennial powerhouse. The Dragons will be heading into the season without the nation's second leading scorer in 2011 in last season's CAA Player of the Year, Scott Perri. Much of the burden will fall on Robert Church, the Dragons' second leading scorer last season as a sophomore. Also in line to lead the program will be senior goaltender Mark Manos, who happens to be the 2010 CAA Defensive Player of the Year.
And let's not forget the women's lacrosse team. They qualified for the CAA tournament last season for the first time in program history and will look to follow attackers Charlotte Wood, a member of last year's Tewaaraton Award watch list, and Alyse Maiden, team's second leading scorer behind Wood.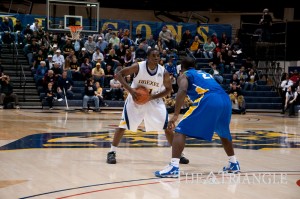 Guard Gerald Colds had his best season as the lone senior on the 2010-11 men's basketball team, averaging 9.7 points per game and playing a team-high 32.3 minutes per game His 9.7 points per game were good for third on the team in scoring, behind Samme Givens (12.2) and Chris Fouch (14.9).
Also in the spring will be some of the fall teams one again in crew, golf and tennis. One of our returning tennis players that you should look out for is Nikoloz Kurdadze — he is an ace on the court and a leader off – and the tennis team will certainly make a slam on the Drexel program this year.
And wait, did we mention that when you attend these games,  you will be accompanied by Drexel's most devoted fan, Calvin? If you aren't already pumped up, he will be sure to raise your level of enthusiasm and make the sporting events truly unforgettable.
And let's not forget, if you decide that you would rather be in the action than sitting in the stands, we have a list of club teams you can join. Ranging from karate to our first class hockey teams to our rough and tough rugby players — there's no reason why you can't be involved with Drexel athletics.
We hope this helps guide you on your journey as a Drexel Dragon — and we can't wait to see all of you at the sporting events. Either at the DAC or somewhere as far off as say, the Virgin Islands for a preseason basketball tournament … you'll have to look into it.