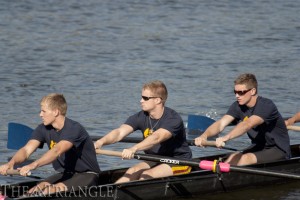 The men's crew team finished the 2010-11 season with more than seven top-five finishes in the fall season alone. This year they hope to exceed previous records and come out on top. They join the women's team for the first regatta of the season Sept. 24 in Rumson, NJ.
Fall is here and so that means rowing is here, and the Drexel men's crew team is gearing up for another memorable season. Drexel has dominated on the water for the past two years, and they don't show any signs of slowing down.
The Dragons sport four home races here on the Schuylkill River, which will no doubt be to their advantage. The remaining two regattas are scheduled to be in Rumson N.J., and Boston, Mass.
In the spring, Drexel Crew sent a record-tying five boats to the finals in the historic Aberdeen Dad Vail Regatta. The men brought home gold and silver medals in that regatta to add to an extremely successful spring season.
The Dragons have 33 returning rowers, three of which earned the Philadelphia Inquirer's All Academic Honors. Sophomore Lorenzo Albala, junior Randall Lee, and senior Jacob Sloan were selected by collegiate sports offices across the Philadelphia area.
But a new school year and a new season means new faces, both friends and teammates. The veteran Dragons will have 19 freshmen to get to know and develop a rapport with. It's always a tough process though. Letting seniors that you look up to go, and suddenly switching roles, you become the mentor, the one that is looked up to.
Last year the men had over seven top-five finishes during the fall season, but they only had 12 new faces coming in last season. They also had 10 seniors last year, the same number they have this season.
Last year's freshmen, the current sophomores, had the benefit of rowing on a dominant squad. They will have to take the roles of leaders now, because they know what it takes to be a winner.
The Dragons will be looking to start their season off right as they prepare to compete in the Rumson Boat Race Sept. 24 in Rumson, N.J.